Baked Oatmeal For One Recipe is a recipe for a single person. It is easy, quick, and nutritious. It is a great recipe for those who want to cook for one or cook for themselves.
This recipe uses unsweetened soy milk and oats. The sweetener can be as little as a drizzle of honey or powdered sugar to make it even less sweet.
Oats are so versatile that you can use them in many other recipes! Baked Oatmeal For One Recipe is full of protein, fiber, minerals, and vitamins from the ingredients included making this the perfect on-the-go breakfast option.
Why I Love This Recipe?
I love this recipe because…
It is a perfect recipe for one! Just throw it in the microwave for about 3 minutes, or you can bake it in the oven for 15 to 20 minutes, and you have a meal!   I keep this recipe on hand, especially for those mornings when I am busy and need something quick and easy to whip up.
It is a healthy, low-fat, high-protein recipe, making it a great breakfast option or an afternoon snack.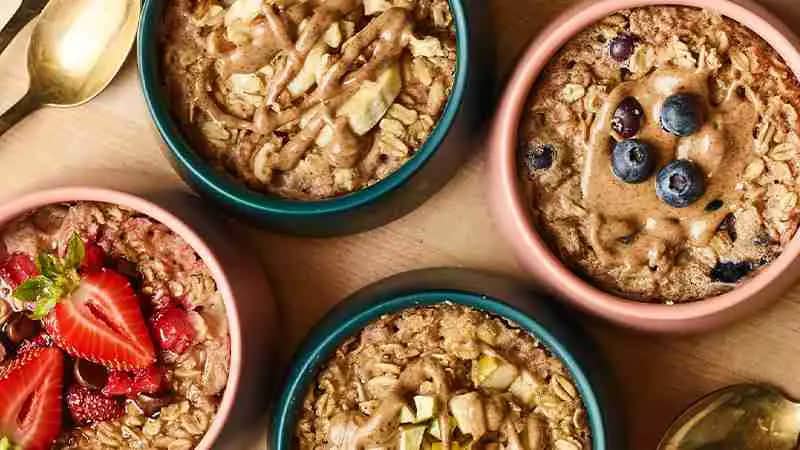 How To Make Baked Oatmeal For One Recipe?
Necessary Ingredients
1/8teaspoon ground cinnamon
1/4 cup old-fashioned oats
1 large egg
1/4 teaspoon vanilla extract
1/4 cup 1% milk (may also use almond or soy milk)
1 tablespoon salted butter
1 tablespoon honey
1/8 teaspoon kosher salt
1/4 cup blueberries
Equipment Needed
Preparation Instructions
Step 1.
In a small bowl, combine the blueberries, cinnamon, and oats. Set aside.
Step 2.
In a medium bowl, whisk together the egg, salt, vanilla extract, milk, and butter until well combined.
Step 3.
Add to the egg mixture and stir until just combined, then spread into a prepared pie plate with a spatula.
Step 4.
Bake at 350°F for 30-35 minutes or until toothpick comes out clean.
Step 5.
Serve warm with blueberry topping, honey, or pure cinnamon sugar. Enjoy!
Tips:
If you want to make this recipe quicker, use a microwave-safe bowl and heat it in the microwave for approximately 1:00 minutes (or until piping hot).  Just watch and stop it when the oatmeal is cooked.
You can also make this into whole wheat baked oatmeal by adding 2 tablespoons of whole wheat flour.
Use other fruits such as strawberries, apricots, and blueberries if you like.
Nutrition Facts Of Baked Oatmeal For One Recipe
| Nutrition | Amount |
| --- | --- |
| Calories | 358 |
| Fat | 6.00 g |
| Cholesterol | 6.0 mg |
| Sodium | 396 mg |
| Potassium | 708 mg |
| Carbohydrates | 26.2 g |
| Fiber | 4.8 g |
| Sugar | 5.5 g |
| Protein | 12.4 g |
| Folate | 0.0 mcg |
| Vitamin A | 75.8 mcg |
| Vitamin C | 1.2 mg |
| Calcium | 44.1 mg |
| Iron | 5.5 mg |
| Thiamin | 0.1 mg |
| Niacin | 2.30 mg |
| Pantothenic Acid | 7.9mg |
The nutrition provided is an estimate. It will vary based on the specific ingredients used.
05 Amazing Health Benefits Of Baked Oatmeal For One Recipe
1. Organic Oats
Baked Oatmeal For One Recipe are one of the healthiest cereals. They contain a mighty protein and many vitamins and minerals such as iron, copper, manganese, zinc, phosphorus, and vitamin B1. Oatmeal is low in Cholesterol and fat. It also aids in weight loss because it reduces your appetite by making you feel full for long periods.
2. Low Sodium Oatmeal
My family's favorite way of eating oatmeal is in the morning before work because it is a healthy breakfast. My husband and kids love this Baked Oatmeal For One Recipe because it is healthy, nutritious, and delicious! We always add berries or honey to sweeten it up a bit. Everyone knows that oatmeal has many benefits but is unaware of how low sodium oatmeal is. It is very important to be mindful of salt intake. 
3. High in Iron & Phosphorus
High iron and phosphorus content in oatmeal provides an excellent oxygen and cellular metabolism source for the body's transport system. Without enough iron and phosphorous, we wouldn't be able to make red blood cells, which carry oxygen throughout the body. When you have a deficiency of these nutrients, your body will steal iron and phosphorous from red blood cells to sustain the vital functions that it is supposed to deliver.
4. Helps digestion
Baked Oatmeal For One Recipe regulates your digestive system because it is high in fiber. It has a gelatin-like quality that helps to keep your intestines moving and functioning properly. Studies have also shown that oatmeal can increase the number of good bacteria in the intestinal tract, which is essential for proper digestion by helping to break down food.
5. Reduces Cholesterol
Oatmeal is very high in soluble fiber, which lowers blood cholesterol levels. Phytic Acid in oatmeal blocks the absorption of some of the fat-soluble vitamins, including A, D, and K. This means that it either cannot be used or that it is used much less effectively by your body to absorb other nutrients because your body needs them to be broken down before they can be absorbed.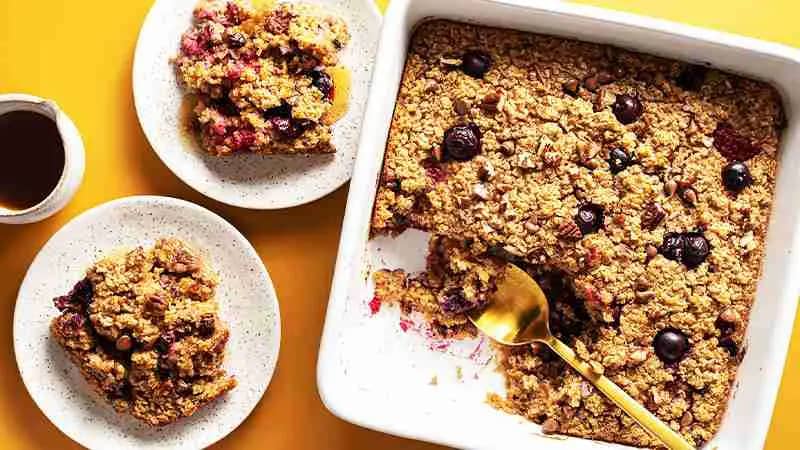 Are baked oats healthy?
Baked oats are very healthy and can be a great alternative to the normal high-carb, high-fat breakfast. They are higher in fiber, carbohydrates, and protein than most breakfast cereals, so that they can keep you full longer.
Do you have to put the egg in baked oats?
The traditional oatmeal (oat is a type of cereal) uses eggs in the recipe. However, as long as you use 1% milk or soy milk, you can substitute the eggs with almond butter. You will want to melt the almond butter in a microwave for about 30 seconds and then beat until smooth before adding it to the oats.
Can you put oatmeal in the oven?
Yes, you can. However, there is a big difference between baked oatmeal and cooked oatmeal. Baked oatmeal is more like a cake. You are baking it in the oven, meaning there is less liquid to create a moist cake. However, you can cook oatmeal in the oven or stove like regular oatmeal.
How Long Will It Take To Prepare?
Prep Time: 10 minutes
Cook Time: 35 minutes
Cooling time: 5 minutes
Total Time: 50 minutes
Yield: 1 serving
Is It Safe For Pregnant And Nursing Women?
Yes, it is safe for pregnant and nursing women. Oatmeal is one of the healthiest foods a woman can eat while pregnant or breastfeeding. Many people believe that oatmeal will make you gain weight during pregnancy and breastfeeding, but that's not the case. Baked Oatmeal For One Recipe contains a ton of fiber and protein, keeping you full longer and reducing your appetite.
Can I Freeze And Store It?
Yes. Baked oatmeal can be frozen for up to 3 months. Before you freeze it, please place it in a freezer-safe plastic bag and throw it into the freezer. Before serving, let it thaw completely and reheat in the oven or stove.
Conclusion
The Baked Oatmeal For One Recipe is delicious and so easy to make. Baked Oatmeal For One Recipe is a great healthy breakfast that can be eaten anytime. You can serve it with your favorite toppings like berries, honey, or plain. The baked oatmeal for one recipe is very quick to throw together, beats cooking eggs every morning, and tastes much better.