Banana Vegan Cookie Recipe is a healthy cookie recipe that is perfect for any occasion. These cookies are vegan and without eggs, which makes them ideal for sharing with friends and family who have dietary restrictions.
The unusual ingredients give these treats a subtle banana flavor with a hint of cinnamon sweetness. The cookies are soft and chewy but do not fall apart easily. They also taste great when they become cold, so they can be kept in a bag or tin and enjoyed at room temperature or chilled.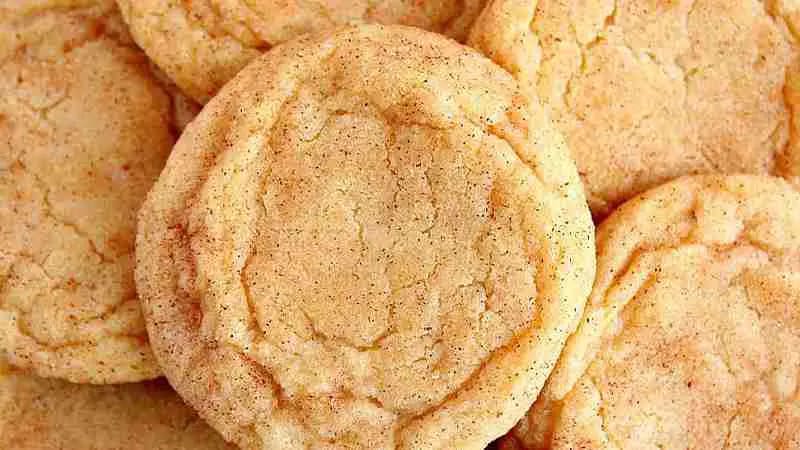 Why I Love This Recipe?
How To Make Banana Vegan Cookie Recipe?
Necessary Ingredients
1/2 cup of almond flour
1/2 cup of mashed bananas (about two small bananas)
One teaspoon of baking soda
One teaspoon of baking powder
Two tablespoons of coconut milk or soy milk
3 tbsp. Virgin coconut oil (melted) OR 3 tbsp. sunflower oil
2 tsp. Vanilla extract or flavoring
Filling:
1/3 cup of brown sugar
1/4 tsp of cinnamon powder
Optional – chocolate dip:
3 tbsp. chocolate
Necessary Equipment
Bowl
Frying pan
Blender or food processor
Preparation Instructions
Step 1.
Mix the dry ingredients in a bowl, and if you make chocolate-dipped cookies, add 3 tbsp of melted chocolate to the mixture.
Step 2.
In a blender or food processor, blend all the wet ingredients until they combine well and become thick and creamy.
Step 3.
Pour the wet mixture into the dry mixture and stir until well combined. The dough will be sticky, but don't worry; this is normal.
Step 4.
Prepare a flat surface; I usually use a clean cutting board.
Step 5.
Using your hands or a spoon, roll the dough into balls and place them on the baking tray.
Step 6.
Bake at 180 degrees Celsius (356 degrees Fahrenheit) until they become golden brown (25 to 30 minutes), and then allow them to cool on the wire rack.
Tips:
If you are having difficulty rolling the cookies into balls, dip your hands in water so the dough will not stick to your hands.
If you want to make these cookies for children with allergies, you can make this recipe with peanut butter instead of bananas or use other protein powders like soy or almond.
You can also make these cookies egg-free by using these substitutes.
Nutrition Facts Of Banana Vegan Cookie Recipe
Amount per serving
Nutrition
Amount
Calories
117
Calories from fat
46
Total fat
5.3g
Cholesterol
0mg
Sodium
683mg
Potassium
95mg.
Total Carbohydrate 17.8gProtein 3Total Sugar 3.2gBanana Vegan Cookie Recipe

The nutrition provided is an estimate. It will vary based on the specific ingredients used.

04 Amazing Health Benefits Of Banana Vegan Cookie Recipe

1) High in Potassium

A medium size banana contains 4g of potassium, which helps to lower blood pressure and avoid bloating. Research has also shown that potassium can help reduce the risk of type 2 diabetes.

 2) Antioxidants 

The banana vegan cookie recipe contains Vitamin C and antioxidants like vitamin A, which help to support a more robust immune system.

3) Rich in Fiber 

The banana vegan cookie recipe contains fiber, reducing the risk of type 2 diabetes and heart disease.

Fiber also lowers cholesterol levels in the body, helps regulate bowel movements, and helps prevent constipation. The fiber content is also significant in maintaining a healthy digestive system.

4) Probiotics

Bananas are naturally high in probiotics, which can help maintain good gut health and prevent diseases affecting the digestive system.

Banana Vegan Cookie Recipe

What is the difference between a vegan banana cake and a regular banana cake?

The main difference between the two recipes is that they both use bananas, but the vegan version has no eggs or dairy products. The regular version often uses eggs and butter as ingredients.

Banana Vegan Cookie Recipe is easy to make and will become one of your family's favorite cookies. It's healthier than other cookie recipes.

Can vegans eat cookies?

Veganism is more than just a diet; it is a way of life. As such, vegans want to ensure that they adhere to the principles of their chosen lifestyle as closely as possible.

Bananas are one of the easiest fruits to use in vegan recipes because they are egg, dairy, and lactose-free. So even if you are not a vegan, you can still make this delicious banana vegan cookie recipe by switching out the eggs and butter with vegan alternatives.

Why do vegans avoid dairy?

Many vegans choose to avoid dairy because they believe that it is too difficult of a feat to get the nutrients they need from plant-based sources.

The latter part of this statement is especially true regarding the dairy industry, as animal abuse is one of the most significant factors in producing milk.

Nearly 80 percent of a cow's milk production is for human consumption, with only 20 percent used in making cheese—the remaining 10 percent or less into butter, cream, and yogurt.

Are bananas vegan?

The vegan diet has become increasingly popular over the past few years. However, some misconceptions exist about what is and isn't vegan-friendly.

Bananas are a fruit often on lists of foods vegans can enjoy. It's just one of the many fruits on this list, including pineapple, kiwi, mango, cherries, and cantaloupe.

How do vegans get protein?

Protein is in many, many foods that vegans can enjoy. If you don't eat meat or eggs, you can quickly get the protein you need from a vegan diet.

Protein is essential in your body. It helps to build and repair muscle tissue, makes hormones, and keeps your immune system strong. It's necessary for bone health and is essential to every cell in your organs.

How Long Will It Take To Prepare?

Prep Time: 15 minutes
Cook Time: 30 minutes
Total Time: 45 minutes
Servings: 10 slices

Is It Safe For Pregnant And Nursing Women?

The banana vegan cookie recipe is safe for pregnant and nursing women. The only thing that you need to be careful about is the sweetness. If you have a sweet tooth, you should reduce the amount of stevia or add more bananas to balance the taste.

Is it Safe For Children?

This vegan banana cookie recipe is also suitable for children; ensure they are at least three years old before serving them.

Banana Vegan Cookie Recipe

Can I Freeze And Store It?

You can freeze and store it for up to 1 month. First, let it cool completely in the pan before transferring it to a freezer bag or container.

Bottom Line

Banana Vegan Cookie Recipe is a very healthy and delicious recipe. You will love it. Just follow my instructions, and you will see that you can make a delicious and healthy recipe like this.