This blueberry salad recipe is a perfect summer dish! Its combination of fresh, juicy blueberries, crisp greens, and a sweet and tangy dressing makes it the perfect balance of flavours and textures. Whether serving it as a side dish or a light and refreshing main course, this salad is sure to be a crowd-pleaser. So, if you're looking for a delicious and healthy way to enjoy blueberries this summer, look no further!
Table of Contents
How To Make Blueberry Salad Recipe?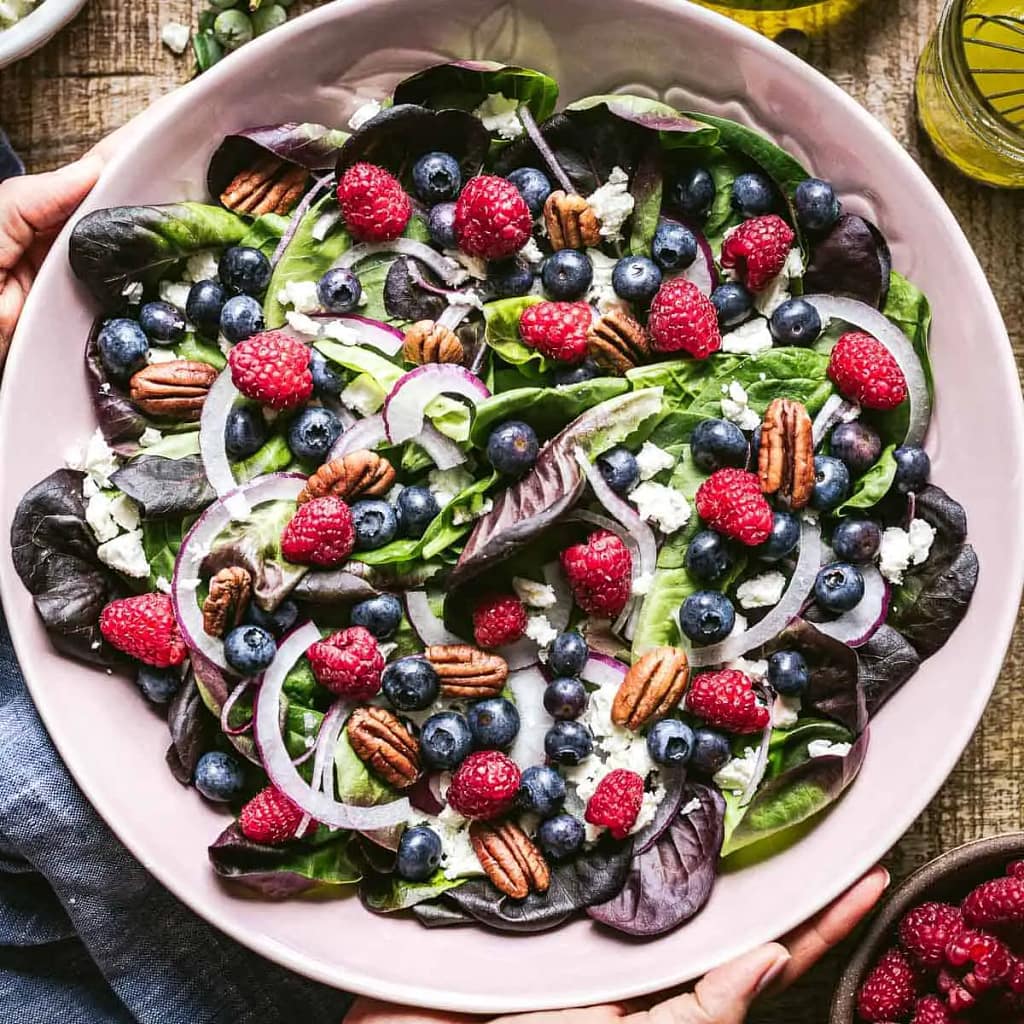 Ingredients:
4 cups of mixed greens
1 cup of fresh blueberries
1/2 cup of chopped pecans
1/2 cup of crumbled feta cheese
2 tablespoons of balsamic vinegar
1 tablespoon of honey
Salt and pepper to taste
Instructions:
1. Wash the mixed greens and dry them well. Place the greens in a large mixing bowl.
2. Add the fresh blueberries, chopped pecans, and crumbled feta cheese to the bowl with the greens.
3. Mix the balsamic vinegar, honey, salt, and pepper in a small mixing bowl. Whisk until the ingredients are well combined.
4. Pour the dressing over the greens, blueberries, pecans, and feta cheese. Toss everything together to ensure that the dressing is evenly distributed.
5. Serve immediately and enjoy!
Take To Prepare Blueberry Salad Recipe
Preparation Time: 10 minutes
Cooking Time: 5 minutes
Total Time: 15 minutes
Servings: 4
Nutrition Facts of Blueberry Salad Recipe
One serving of this Blueberry Salad Recipe contains approximately
. This salad is also a good source of fibre, vitamins, and minerals, making it a nutritious and filling meal option.
05 Excellent Health Benefits of Blueberry Salad:
1. Blueberries are a good source of antioxidants, which help to protect the body from free radicals and reduce the risk of certain diseases.
2. The greens in the salad provide a good source of fibre, which helps to keep the digestive system healthy and promotes feelings of fullness.
3. The nuts in the salad are a good source of healthy fats and protein, which help to keep you feeling full and satisfied.
4. The balsamic vinegar and honey dressing is a healthy alternative to traditional high-fat dressings and provides a delicious combination of sweet and savoury flavours.
5. feta cheese provides a good source of calcium, which is important for maintaining strong bones.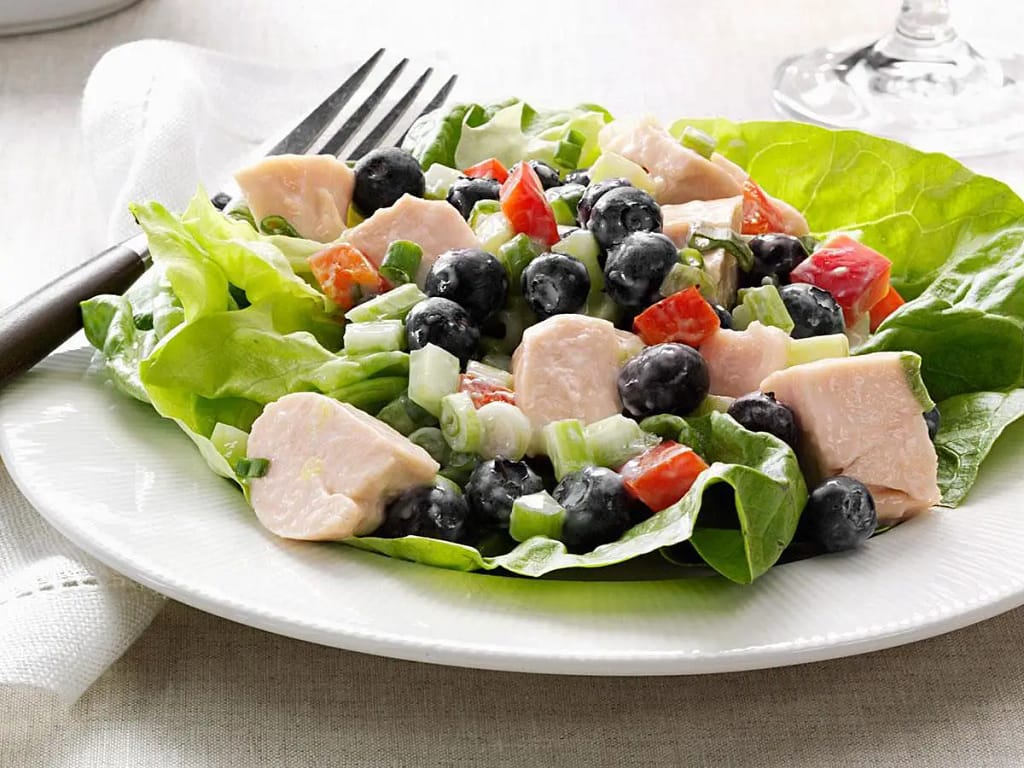 How to Store and Freeze Blueberry Salad?
This blueberry salad can be stored in the refrigerator for up to two days. To store the salad, place it in an airtight container and keep it in the refrigerator until you are ready to eat it. If you want to freeze the salad,
place it in a freezer-safe container and store it in the freezer for up to three months. When you are ready to eat the salad, remove it from the freezer and let it thaw for a few hours before serving.
Best Serving Idea of Blueberry Salad Recipe
This blueberry salad is perfect for a light lunch or a dish with grilled chicken or fish. For a more substantial meal, add grilled chicken, nuts, or tofu to the salad for added protein and texture. Serve the salad with a slice of whole-grain bread for a complete and satisfying meal.
What can I do with lots of blueberries?
There are many things you can do with a lot of blueberries! Here are a few ideas:
Baked goods: Bake blueberries into muffins, pancakes, or scones for a burst of flavour.
Sauces and syrups: Blueberries can be simmered with sugar to create a sweet syrup or sauce. It can be used as a topping for pancakes and waffles or as a glaze for meats.
Frozen treats: Freeze blueberries for a refreshing snack or use them to make blueberry sorbet or ice cream.
Salads: Toss blueberries with greens and other fruits for a colourful and nutritious salad.
Preserving: Make blueberry jam, jelly, or conserve to enjoy all year round.
Smoothies: Blend blueberries with milk, yoghurt, or ice cream for a healthy and delicious smoothie.
Snacks: Eat blueberries as a snack or use them as a topping for yoghurt or oatmeal.
Desserts: Make a blueberry pie, crisp, or cobbler for a sweet and fruity dessert.
You can do many other things with blueberries, so feel free to get creative!
healthy blueberry salad
A healthy blueberry salad can be a delicious and nutritious meal. Blueberries are rich in antioxidants and vitamins, making them an excellent ingredient for a salad. To make a healthy blueberry salad, you can mix fresh blueberries with various greens, such as spinach or mixed greens.
To add texture and flavour to your salad, you can then add other ingredients, such as sliced almonds, crumbled goat cheese, or diced avocado. A healthy dressing, such as a lemon vinaigrette or a balsamic glaze, can be drizzled over the top of the salad to bring everything together. With its combination of sweet and savoury flavours and nutritious ingredients, this salad will surely be a hit with everyone at the table.
chicken blueberry salad
Chicken and blueberry salad is a fresh and flavorful dish that can be healthy for lunch or dinner. Combining sweet and juicy blueberries with savoury and tender chicken creates a perfect balance of flavours and textures. This dish is not only delicious but also packed with nutrients essential for a healthy diet.
Ingredients:
2 boneless chicken breasts
1/2 teaspoon salt
1/4 teaspoon black pepper
1/4 teaspoon garlic powder
2 tablespoons olive oil
4 cups mixed greens
1 cup fresh blueberries
1/4 cup crumbled feta cheese
1/4 cup chopped walnuts
2 tablespoons balsamic vinegar
1 tablespoon honey
Instructions:
Preheat the oven to 400°F.
Season the chicken breasts with salt, pepper, and garlic powder.
Heat the olive oil in a large skillet over medium heat. Add the chicken breasts and cook for 4-5 minutes on each side or until fully cooked.
Remove the chicken from the heat and let it cool for a few minutes.
In a large mixing bowl, combine the mixed greens, blueberries, feta cheese, and chopped walnuts.
In a small mixing bowl, whisk together the balsamic vinegar and honey.
Slice the cooked chicken into thin strips and add it to the mixing bowl with the greens and blueberries.
Drizzle the balsamic and honey dressing over the salad and toss to combine.
Serve the chicken and blueberry salad immediately, and enjoy!
This blueberry chicken salad is a nutritious and satisfying meal that is perfect for summer days. The fresh and juicy blueberries add sweetness, while the feta cheese and walnuts provide a crunchy texture and a delicious flavour. This salad is a great option for those who are looking for a healthy and delicious meal that is easy to make and packed with essential vitamins and minerals
blueberry salad with blueberry dressing
Blueberry salad with blueberry dressing is a delicious and healthy dish that combines the fresh sweetness of blueberries with the tangy taste of a blueberry dressing. The salad can be made with various greens such as spinach, arugula, or mixed greens and topped with other fresh ingredients such as sliced almonds, feta cheese, or even grilled chicken for added protein.
The blueberry dressing is made by blending fresh blueberries with lemon juice, vinegar, honey, and olive oil until smooth. The dressing is then poured over the salad and tossed until everything is well combined. This salad is a great option for a summertime lunch or dinner and is perfect for picnics, barbecues, or any outdoor gathering. Not only is it delicious and refreshing, but it is also a healthy choice packed with vitamins and antioxidants.
Conclusion
This blueberry salad recipe is a delicious and nutritious way to enjoy the flavours of summer. With a combination of fresh blueberries, greens, nuts, and feta cheese, this salad is a perfect meal for any day. Whether you're looking for a light lunch or a side dish to accompany your main meal, this