Bodybuilder Oatmeal Recipe is a breakfast recipe containing high levels of protein and complex carbohydrates made up of oats, milk, ground cinnamon, chia seeds, brown sugar, and oats. The ingredients are carefully combined to produce a dish that is hard to describe but easy to eat.
What is a bodybuilder oatmeal recipe?
A bodybuilder oatmeal recipe consists of oats, milk, and fruit to prepare this nutritious dish. The mix can be eaten as is, or add some protein powder if you wish to enjoy it with milk or fruit chilled. This cereal will make a great meal replacement pick-me-up, especially if you have a busy morning ahead.
Why I Love This Recipe?
Tastes amazing.

It can be eaten in different ways.

It can be topped with different fruit or ice cream.

Easy to make and travel friendly.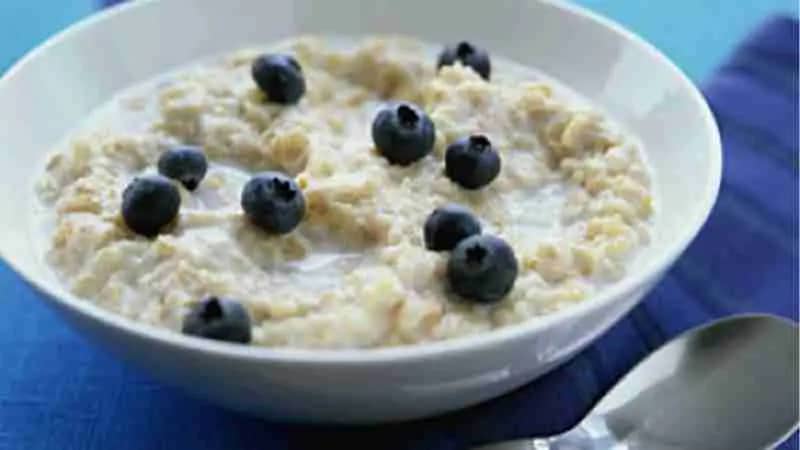 How To Make Bodybuilder Oatmeal Recipe?
Necessary Ingredients
½ cup of oats
½ cup of oat flakes
1 ½ cup of skimmed milk (You can use any other type of milk)
½ tablespoon of ground cinnamon.
A pinch of salt.
½ cup of brown sugar.
½ cup of chia seed
Equipment Needed
Mug or small saucepan.
Necessary Equipment
A mixing bowl.
A spoon.
A boiling water kettle.
Preparation Instructions
Step 1.
Add oats, oat flakes, ground cinnamon, brown sugar, chia seeds, and salt to a large mixing bowl.
Step 2.
Pour in milk until the mixture reaches a level where you can stir it with a spoon.
Step 3.
Stir the mixture very well with a spoon until it becomes thick. Pour some water into a boiling water kettle and heat until it boils. Take the boiling water and pour it over the mix into the mixing bowl. Stir with a spoon until the mixture becomes thick and creamy.
Step 4.
Pour the finished mix into a baking tray lined with baking paper. Let it sit for about 10-15 minutes for the oats to absorb the water, and then sprinkle some sugar on top of the hot oatmeal.
Step 5.
Please leave it to cool down and then eat it with fruit or ice cream as desired.
Nutrition Facts Of Bodybuilder Oatmeal Recipe
Per Serving
| Nutrition | Amount |
| --- | --- |
| Calories | 156.6 |
| Cholesterol | 0 mg |
| Sodium | 59.1 mg |
| Total Carbohydrates | 23.9 g (7%) |
| Total Fat | 3.2 g (4%) |
| Potassium | 46 mg (1%) |
| Total Sugar | 16.8 g (9%) |
| Protein | 6. |
The nutrition provided is an estimate. It will vary based on the specific ingredients used.
06 Incredible Health Benefits Of Bodybuilder Oatmeal Recipe
1. Energy Booster
Oats are very popular in breakfast cereals and are usually served with fruits or ice cream. It is a simple dish consisting of oats and water, making it very fast to prepare, delicious to eat, and healthy for the body. It has a low glycemic index rating and aids weight loss by preventing blood sugar levels from rising rapidly after meals. This oatmeal recipe has high fiber content that promotes healthy digestion, improves bowel movements, and maintains an ideal weight.
2. Skin Health
Milk and oatmeal are both considered to be skin friendly. The ingredient chia seeds are packed with Vitamin B6, calcium, zinc, and omega 3 fatty acids. It is a high-fiber food that promotes healthy digestion in the body, absorbs excess water from the intestines, and maintains an ideal weight. It also improves skin health by reducing wrinkles and boosting collagen in the body's skin.
3. Boosts Immunity
Chia seeds used in this recipe are a rich source of omega-3 fatty acids. These acids have anti-inflammatory properties, which can help treat skin diseases and boost Immunity. They also help treat a person who has rheumatoid arthritis and helps with the development of the brain and nervous system.
4. Internal Health
This oatmeal recipe contains no cholesterol and is low in fat. The recipe consists of ingredients that are rich sources of calcium, iron, and protein. It also contains high levels of vitamins B1 and B6, which help treat heart diseases, improve memory and treat depression.
5. Reduced Cholesterol Levels
A study was conducted at Brigham Young University on the cholesterol levels in rats who were given oats for breakfast six weeks a month (1). The study showed that the rats given oats had lower cholesterol levels than the control group. The study showed that oatmeal could help reduce cholesterol levels in people.
6. Digestion And Immunity
Oats are also used to treat both digestive and immune problems. They are one of the most popular plant-based sources of fiber that regulates bowel movements and maintains an ideal weight by promoting healthy digestion, and reducing gas, bloating, and indigestion.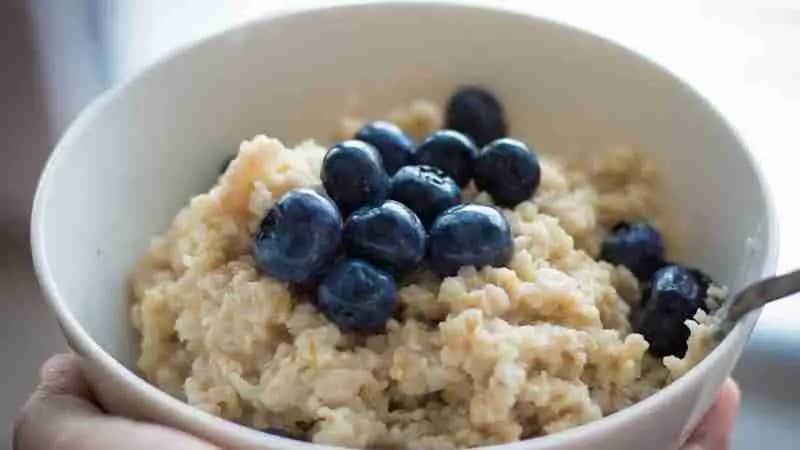 What do bodybuilders put in their oatmeal?
Bodybuilders are known for their strict diet and high protein intake. To make the most out of this bodybuilder oatmeal recipe, a bodybuilder can add protein powder to it. Bodybuilder Oatmeal Recipe can be done by adding a scoop of your preferred protein powder to the mix at step 2 in the preparation instructions.
Is oatmeal good for bodybuilders?
Oatmeal is a great protein source for bodybuilders. It is high in fiber, making it a great choice for those concerned about digestion and healthy bowel movements. It also contains iron, calcium, magnesium, and zinc, which all play an important role in the body's health. You can drink your oatmeal with milk or add some fruit after cooking if you want it to taste even better.
Does oatmeal build muscle mass?
Oatmeal is a good source of calcium and iron, which are important for muscle building. It is also a good source of fiber which helps maintain an ideal weight and eat healthy since it regulates bowel movements.
How to serve bodybuilder oatmeal recipe?
This oatmeal recipe tastes great hot but can also be served cold with milk, over ice cream, or topped with fresh fruits. Depending on your desired consistency, you can use any milk for this recipe.
Which oats are best for muscle building?
Choose rolled oats that are finely tumbled and not instant. Rolled oats are slowly cooked and, therefore, more nutritious. Instant oatmeal is unhealthy for the body and should be avoided at all costs as it has high levels of salt and preservatives you don't need while building muscles.
Are oats good for getting ripped?
Oats packed with fiber and protein are great for people who want to get ripped. They help regulate bowel movements and absorb excess water from the intestines. It also contains antioxidants (vitamin E, vitamin C, and flavonoid compounds) that can help prevent the build-up of fats in the body.
How Long Will It Take To Prepare?
Prep Time: 5 minutes
Cook Time: 15 minutes
Total Time: 20 minutes
Servings: 1
Can I Freeze And Store It?
Oats can be stored in the fridge for up to 1 week and frozen for up to 6 months.
Bottom Line
Bodybuilder Oatmeal Recipe is a great recipe for bodybuilders who want to enjoy oats in their way. They get to mix cooked oats with fruits, milk, and even protein powder to customize their taste. This recipe keeps people healthy since it contains no cholesterol and is packed with high-quality ingredients which can all be used in many ways.
The calories, proteins, and carbs of this oatmeal recipe will depend on the type of oats you use.