Cinnamon And Spice Oatmeal Recipe is a delicious and healthy recipe that satisfies your sweet and savory desires. Oats are high in soluble fiber, which helps lower LDL cholesterol, control blood sugar levels, and maintain bowel regularity. And the cinnamon-spice flavor is perfect for the holidays!
Oatmeal is a quick-cooking whole grain that's easy on your digestive system because it's low in phytic acid and naturally gluten-free – two substances that can cause inflammation in some people with certain dietary restrictions.
Why I Love This Recipe?
Cinnamon And Spice Oatmeal Recipe is great because it's a filling, healthy breakfast you can eat on your way to work or school. It's also super fast to make –you could probably make the whole thing from start to finish in less than 10 minutes!
Because I normally don't cook my Oatmeal at home (too lazy), I was skeptical about how it would taste when made with canned pumpkin puree.
How To Make Cinnamon And Spice Oatmeal Recipe?
Necessary Ingredients
½ cup rolled oats
¼ cup canned pumpkin puree
1 ½ tsp. ground cinnamon
1/8 tsp. freshly grated nutmeg
1/8 tsp. ground cloves
1/8 tsp. salt
1 Tbsp. maple syrup
1 Tbsp. water
Necessary Equipment
Mixing bowl
Mixing spoon
Dry measuring cup
Oven-safe glass or ceramic baking dish (8-inch square or smaller)
Preparation Instructions
Step 1.
Preheat your oven to 350⁰ F.
Step 2.
Whisk the oats, pumpkin, cinnamon, nutmeg, cloves, and salt in a mixing bowl.
Step 3.
Mix the maple syrup and water in a separate container until the maple syrup has dissolved into the water. Add this to your oat mixture and stir with a spoon until well-mixed. It should have a thick consistency like brownie batter (as shown below).
Step 4.
Transfer your oat mixture to an oven-safe glass or ceramic baking dish.
Step 5.
Bake for 15 – 20 minutes (or until the top is lightly browned). Let cool for 2 minutes before serving. Enjoy!
Nutrition Facts Of Cinnamon And Spice Oatmeal Recipe
Per Serving
07 Incredible Serving Ideas Of Cinnamon And Spice Oatmeal Recipe
1. Healthy Breakfast
There's nothing better than waking up to a hot, steaming bowl of Oatmeal. Plus, it's packed with fiber and antioxidants –potassium will help keep your muscles and heart healthy!
2. Healthy Snack
I love snacking on this Oatmeal when I get them in the afternoon. It will fill you up, and all organic ingredients are healthy enough to eat on the go, at work, or school.
3. Warm Soup
This Oatmeal can double as a warm soup if you're feeling a little under the weather. Just add hot water to your oatmeal dish, let it soak for a few minutes and then stir the mixture until it's nice and creamy.
4. Healthy Dessert
Cinnamon And Spice Oatmeal Recipe is just as delicious as dessert! Top your bowl with a little honey, serve it with some fruit, and have a healthy, easy-to-make dessert!
5. Healthier Sandwich
If you want to add more protein to your meals, try this Oatmeal instead of bread. It's extremely filling, and the cinnamon-spice flavor is the perfect complement to any sandwich.
6. Baked Good
Need something sweet and decadent for a weekend treat? Top your Oatmeal with fresh fruits or homemade whipped cream for a delicious dessert or snack!
7. Healthier Pancakes
Cinnamon And Spice Oatmeal Recipe serves as a great replacement for all-purpose flour in pancakes. Instead of 1 cup flour, mix ¾ cup oats with ¼ teaspoon baking soda and follow your recipe instructions. Your pancakes will come out crispy on the outside, moist on the inside, and perfectly delicious!
Is cinnamon and spice oatmeal healthy?
Well, I like to think this is a healthier snack option than a candy bar. Oatmeal contains fiber, antioxidants, and good nutrients that can lower cholesterol. It's not EXACTLY healthy, though. Here's why…
Oatmeal is a complex carb and should be eaten in moderation. Cinnamon And Spice Oatmeal Recipe is on the high end, so don't eat it daily, or you will get fat.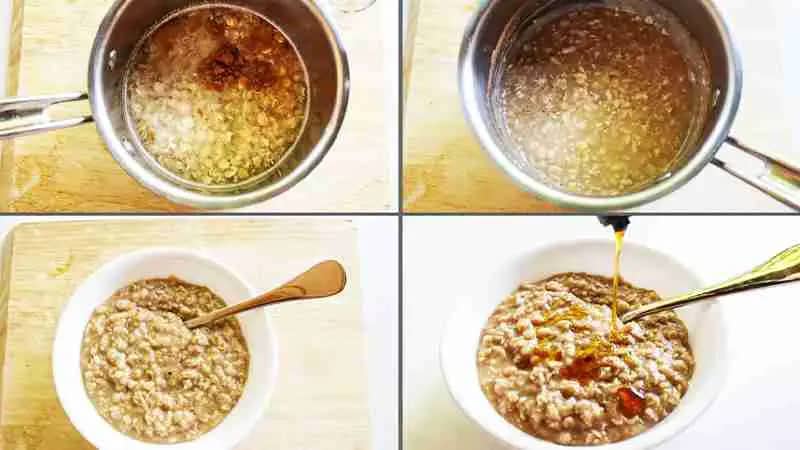 What spice is good in Oatmeal?
I buy organic pumpkin spice from Trader Joe's. I love it, and I use it in a lot of recipes. However, Cinnamon And Spice Oatmeal Recipe is very expensive, and everyone else seems to like cinnamon, so I used it in this recipe.
What to add to Oatmeal to spice it up?
For obvious reasons, this makes a delicious breakfast! I think adding chia seeds and fresh fruits would be awesome. Brown sugar, vanilla, and cinnamon are good options to add to your bowl.
What can I put in Oatmeal to lose weight?
If you want to use this as a healthy weight loss plan, I suggest replacing the pumpkin with applesauce and eating it in moderation. You can also add blueberries, cinnamon, and honey for additional flavor (the honey would negate any supposed weight loss plan, but it still tastes delicious).
How Long Will It Take To Prepare?
Prep Time: 5 minutes
Cooking Time: 15-20 minutes
Servings: 1
Is It Safe For Pregnant And Nursing Women?
I would not recommend eating this for breakfast right after giving birth as it contains Oatmeal, which can cause constipation. Cinnamon And Spice Oatmeal Recipe is best to eat it a couple of hours post-delivery. You can also make this recipe with a little more pumpkin spice and leave out the salt and sugar to be safe during pregnancy and breastfeeding.
Can I Freeze And Store It?
Yes. Keep the Oatmeal in an airtight container in the fridge for up to 3-4 days.
Bottom Line
If you love pumpkin, want to learn how to cook with spices and fresh veggies, or want a healthier snack than a candy bar, I would try this recipe. Just don't go overboard on the spice; it should be fine for all ages of children!
I hope you enjoyed the Cinnamon And Spice Oatmeal Recipe. If so, please consider leaving me a positive review or sharing my post with your friends and family on any of the following social media sites… Facebook, Instagram, Twitter, or Pinterest.