Introducing the Crumbl Sugar Cookie Recipe, a timeless classic that's perfect for both beginners and seasoned bakers. These cookies are soft, chewy, and packed with that irresistible sugar cookie flavor that you can't resist. Whether you're baking for a special occasion or simply indulging in some self-care, these cookies are the answer.
Who is the Crumbl Sugar Cookie Recipe For?
This recipe is for anyone who appreciates the simple joy of a perfectly baked sugar cookie. It's for parents looking to create a fun baking activity with their kids, for those craving a nostalgic treat, and for all dessert enthusiasts. The Crumbl Sugar Cookie Recipe is also a fantastic choice when you want to impress your guests with homemade goodness.
Why the Crumbl Sugar Cookie Recipe is Simply Irresistible
It's a combination of the right ingredients, proper technique, and a dash of love. The Crumbl Sugar Cookie Recipe has been meticulously crafted to give you that delightful balance of sweetness, tenderness, and flavor. The best part? It's not overly complicated. Even if you're a baking novice, you can master this recipe with ease.
Kitchen Equipment
To bake these delightful Crumbl Sugar Cookies, you'll need the following kitchen equipment:
Large mixing bowl
Electric mixer
Whisk
Measuring cups and spoons
Baking sheets
Parchment paper
Wire rack for cooling
Ingredients
Crumbl Sugar Cookie Recipe
Gather these high-quality ingredients to ensure your Crumbl Sugar Cookies turn out splendidly:
1 cup unsalted butter, softened
1 ½ cups granulated sugar
2 large eggs
1 teaspoon pure vanilla extract
1 teaspoon almond extract (for a delightful twist)
3 cups all-purpose flour
1 teaspoon baking powder
½ teaspoon salt
Additional granulated sugar for rolling
Pink Buttercream Frosting
1 cup (2 sticks) unsalted butter, softened
4 cups confectioners' sugar (powdered sugar), sifted
1/4 cup whole milk or heavy cream
2 teaspoons pure vanilla extract
A pinch of salt
Pink food coloring (gel or liquid) adjust to your desired shade of pink
Optional Ingredients for Flavor Variations:
Strawberry Delight: 1/2 cup of finely pureed strawberries (reduce milk/cream slightly)
Raspberry Bliss: 1/4 cup of finely pureed raspberries (reduce milk/cream slightly)
Lemon Zest: Zest of one lemon
Almond Infusion: 1 teaspoon almond extract in addition to vanilla extract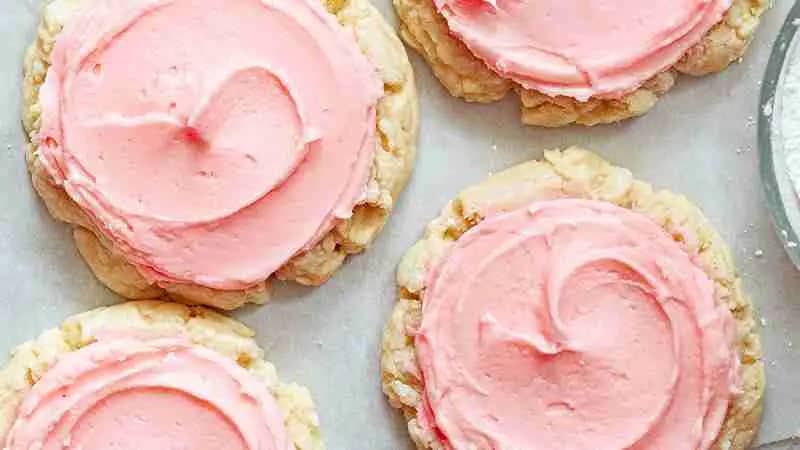 Directions for Crumbl Sugar Cookie Perfection
Preheat your oven to 350°F (175°C) and line your baking sheets with parchment paper.
Cream the Butter and Sugar: In a large mixing bowl, cream together the softened butter and granulated sugar until it's light and fluffy. This step is essential for achieving the perfect cookie texture.
Add the Eggs and Extracts: Beat in the eggs, one at a time, ensuring each is fully incorporated before adding the next. Then, mix in the vanilla extract and, if you're feeling adventurous, the almond extract for that extra layer of flavor.
Combine the Dry Ingredients: In a separate bowl, whisk together the all-purpose flour, baking powder, and salt. Gradually add this dry mixture to the butter and sugar mixture, blending until a soft dough forms.
Roll in Sugar: Roll the dough into 1-inch balls and then roll each ball in additional granulated sugar. This will give the cookies that delightful sugary coating that's a hallmark of sugar cookies.
Bake to Perfection: Place the sugar-coated dough balls on the prepared baking sheets, spacing them about 2 inches apart. Bake for 10–12 minutes, or until the edges are lightly golden. Be sure not to overbake, as we want these cookies to be wonderfully chewy.
Cool and Enjoy: Let the cookies cool on the baking sheets for a few minutes before transferring them to a wire rack to cool completely. Once cooled, it's time to enjoy the delectable goodness of Crumbl Sugar Cookies!
How to Make Pink Buttercream Frosting
Prepare the Ingredients: Make sure the butter is softened to room temperature for easy mixing. Sift the confectioners' sugar to remove any lumps, ensuring a smooth and creamy frosting.
Cream the Butter: In a large mixing bowl, cream the softened butter until it's light and fluffy. An electric mixer works wonders here, but a good old-fashioned hand mixer will do the trick as well.
Add Confectioners' Sugar: Gradually add the sifted confectioners' sugar to the creamed butter. Start mixing on low speed to avoid a sugary explosion, then increase the speed as the ingredients combine.
Introduce Vanilla Extract: Pour in the pure vanilla extract and add a pinch of salt to enhance the flavors. Continue mixing until the ingredients are well incorporated.
Adjust Consistency: Now, add the whole milk or heavy cream, a little at a time. This step allows you to adjust the frosting's consistency to your liking. If you're going for a thicker frosting, use less liquid; for a smoother and lighter texture, add a bit more.
Add the Pink Hue: It's time to infuse that lovely pink color! Start with a small amount of pink food coloring and gradually add more until you achieve your desired shade of pink. Remember, a little goes a long way, so add the coloring in small increments.
Flavor Variations (Optional): If you're trying one of the flavor variations, gently fold in the finely pureed strawberries, raspberries, lemon zest, or almond extract, depending on your chosen variation.
Mix Until Dreamy: Continue mixing the frosting until it's smooth, fluffy, and has that beautiful pink hue you're aiming for. This usually takes a few minutes.
Ready to Decorate: Your Pink Buttercream Frosting is now ready to grace your baked goods with its sweetness and elegance. Spread it onto cupcakes, frost a cake, or pipe it onto cookies. The choice is yours!
 Prep Time: 15 minutes
Cook Time: 12–15 minutes (for baking cookies)
Total Time: Approximately 30 minutes (including preparation and baking time)
Servings: Makes about 24–30 cookies (depending on size)
Nutrition Facts Of  Crumbl Sugar Cookie Recipe
Calories: 120 kcal
Total Fat: 6g
Cholesterol: 25mg
Sodium: 50mg
Total Carbohydrates: 15g

Dietary Fiber: 0g
Sugars: 9g

Protein: 1g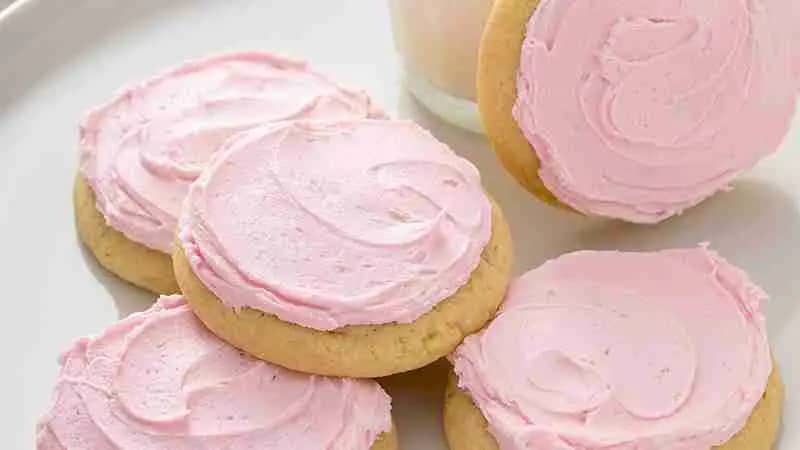 Storing Leftovers
If you manage to resist eating all the cookies at once (a commendable feat!), store the leftovers in an airtight container at room temperature. They'll remain wonderfully chewy for a few days.
You can also freeze the baked cookies for longer storage – just make sure they're in an airtight container or a zip-top bag.
Perfect Pairings
To elevate your Crumbl Sugar Cookie experience, here are some delightful pairings:
Classic Milk: A glass of cold milk perfectly complements the sweetness of these cookies.
Coffee Bliss: Enjoy with your favorite coffee or latte for a cozy treat.
Ice Cream Sandwiches: Create heavenly ice cream sandwiches by placing a scoop of your preferred ice cream between two cookies.
FAQs
1. Can I make the dough in advance?
Absolutely! You can prepare the dough, shape it into a log, wrap it tightly in plastic wrap, and refrigerate it for up to 3 days. When you're ready to bake, simply slice the dough into rounds, roll them in sugar, and bake as directed.
2. How do I achieve that perfect chewy texture?
The key to achieving that soft and chewy texture is not overbaking. Keep a close eye on the cookies in the oven, and as soon as the edges start to turn golden, it's time to take them out. They'll continue to set as they cool on the baking sheets.
3. Can I freeze the cookie dough?
Yes, you can freeze the cookie dough for later use. Shape the dough into balls, roll in sugar, place on a baking sheet, and freeze until solid. Once frozen, transfer the dough balls to a zip-top bag.
When you're ready to bake, simply place the frozen dough balls on a baking sheet, let them thaw for a few minutes, and bake as directed.
4. Can I use margarine instead of butter?
While butter is the preferred choice for the best flavor and texture, you can use margarine as a substitute. Keep in mind that the cookies may have a slightly different texture and flavor
best Serving Ideas:
Classic: Enjoy the Crumbl Sugar Cookies as is, with a glass of cold milk or a cup of hot tea. They're deliciously simple and perfect for snacking.
Ice Cream Sandwiches: Make ice cream sandwiches by placing a scoop of your favorite ice cream between two cookies. Roll the edges in mini chocolate chips or sprinkles for an extra touch.
Frosting Fun: Spread a layer of vanilla or cream cheese frosting on top of the cookies for a decadent treat. Add some food coloring for a festive touch.
Cookie Parfait: Crumble the cookies and layer them with whipped cream and berries in individual glasses to create a delightful parfait.
Dipping Delight: Melt some chocolate (dark, milk, or white) and dip half of each cookie in the melted chocolate. Place them on a parchment-lined tray to let the chocolate set.
Gifts: Wrap a batch of these cookies in a decorative box or jar and give them as thoughtful homemade gifts for special occasions.
Conclusion
These Crumbl Sugar Cookies hold a special place in our hearts. They're not just cookies; they're a warm embrace, a moment of joy, and a reminder of the simple pleasures in life.
With their soft, chewy texture and that sugary coating, each bite is a journey back to childhood, a celebration of shared moments with loved ones, and a testament to the magic of baking.