Crumbl Twix Cookie Recipe is a fun twist on the classic chocolate chip cookie that one woman carefully perfected. Rather than the traditional chocolate chips, Twix bars are used for the chunks of sweetness.
You'll cut some of your favorite Twix bars into small pieces, but leave a chunk on each bar to make them easier to find when you bite into them. You'll also bake the cookies on a sheet pan to make them extra crispy.
Why I Love This Recipe?
Easy to prepare, and they look so delicious
For a fall snack, they're both crunchy and sweet
They are made with chocolate, so get some milk
The cookies are soft in the middle and crispy on the edges
You can make them in mini sizes, perfect for kids
They are not difficult to prepare, but you do have to do some cutting and chopping, which is fun for adults and children alike
The mini size is great because they're not too big, so they won't fill you up too much before dinner
To make them a bit healthier, try using applesauce as an alternative to butter in your recipe.
How to Make Crumbl Twix Cookie Recipe?
Necessary Ingredients
¾ cup brown sugar
½ cup white sugar
2 large eggs
1 teaspoon vanilla extract
2 cups flour
2 teaspoons baking soda
½ teaspoon salt
½ cup chocolate chips
1 package (12.4 ounces) Twix bars, cut into small pieces
Necessary Equipment
Baking sheet
Cookie scoop
Heatproof spatula
Measuring spoons and cups
Sheet pan with greased parchment paper,
wax paper or silicon baking sheets (optional)
Preparation Instructions
Step 1.
Preheat the oven to 350F. Line a large baking sheet with parchment paper.
Step 2.
Place the butter in a microwave-safe bowl and melt in the microwave for 30 to 40 seconds or until the butter is just melted and not hot.
Stir in brown sugar and white sugar until well blended; stir together eggs and vanilla extract until smooth; add melted butter and mix well. Fold flour, baking soda, and salt into the mixture stirring just until blended, then fold in chocolate chips and Twix pieces.
Step 3.
Drop the dough by rounded tablespoons on the prepared baking sheets three inches apart. Bake for 12-14 minutes until the edges are lightly browned, and the center is set. Cool slightly before removing from the baking sheet.
Cooking Tips
If the filling sets during baking, place the cookie sheet in a 200F oven for 10 minutes.
Don't over-bake, or the cookies won't be crunchy.
The cookies will spread while cooking, but they will also shrink and stay together later.
Use a spatula to spread the mixture onto the baking sheet. It will make for thinner, crispier cookies.
Sprinkle some additional shredded coconut on top of the cookies before you bake them. It will give it a design, making it look nice.
The cookies are soft in the middle and crispy on the edges when they come out of the oven. They will not spread much as they cool and get even more crunchy as you eat them.
Take To Prepare Crumbl Twix Cookie Recipe
Preparation time: 5 minutes
Cooking time: 15 minutes
Total time: 20 minutes
Servings: 20
Nutrition Facts Of Crumbl Twix Cookie Recipe
Amount Per Serving
Nutrition data is approximate and is for information only.   Nutrition Facts may not be exact because the recipe has been altered and re-tested several times to ensure its accuracy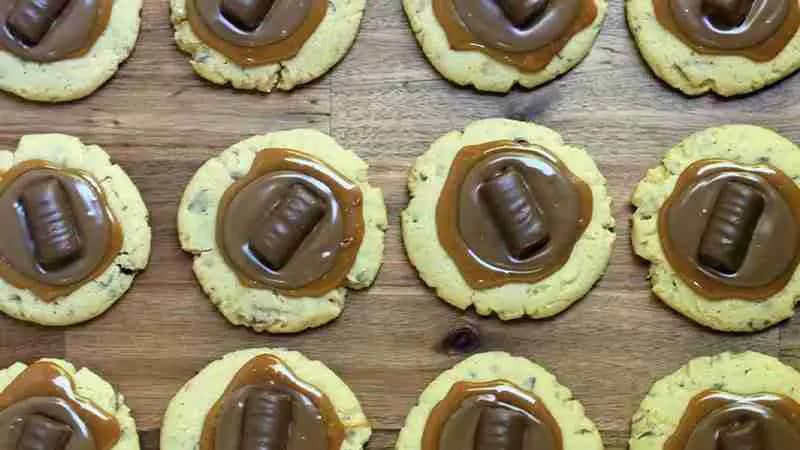 07 Amazing Health Benefits of Crumbl Twix Cookie Recipe
1. Due to its high fiber, the Crumbl Twix Cookie Recipe can reduce your cholesterol level and improve your digestion while giving you a fuller feeling.
2. The Crumbl Twix Cookie Recipe is composed of healthy oils that help protect your heart from diseases like coronary heart disease and stroke.
3. The Crumbl Twix Cookie Recipe is composed of healthy unsaturated fats that play a huge role in the health of your brain and central nervous system.
4. Its antioxidants ensure that the Crumbl Twix Cookie Recipe keeps you safe from harmful toxins, fights cancer, and reduces signs of aging.
5. The Crumbl Twix Cookie Recipe has protein which makes it a good substitute for meat in your diet. It makes you feel full by increasing your metabolism, thus reducing hunger and fat storage.
6. The Crumbl Twix Cookie Recipe helps release feel-good hormones that boost your mood, help you sleep better, and assist your immune system.
7. The taste of the Crumbl Twix Cookie Recipe is not bad for you as it contains many healthier ingredients, such as unsaturated fats, minerals, and vitamins.
FAQS Section
Bottom Line
The Crumbl cookie is a great choice for anyone. It is a very tasty, flavorful, and mouthwatering treat that satisfies your sweet tooth for quite a long time.
The only problem with the Crumbl cookie is that it contains maltitol which can cause your blood glucose to rise rapidly. Otherwise, there is no documented evidence that you will experience any side effects from consuming Crumbl cookies.