Greek Yogurt Coleslaw is a classic side dish for barbecues, potlucks, and picnics. It is typically made with shredded cabbage, carrots, and mayonnaise. However, mayonnaise is high in fat and calories, making coleslaw less healthy. But fear not! There is a way to enjoy this classic dish without sacrificing your health goals – Greek Yogurt Coleslaw.
Greek yogurt is a healthier alternative to mayonnaise. It is high in protein and lower in calories and fat. When you combine it with shredded cabbage, carrots, and a few other ingredients, you get a delicious coleslaw that is healthy and tasty.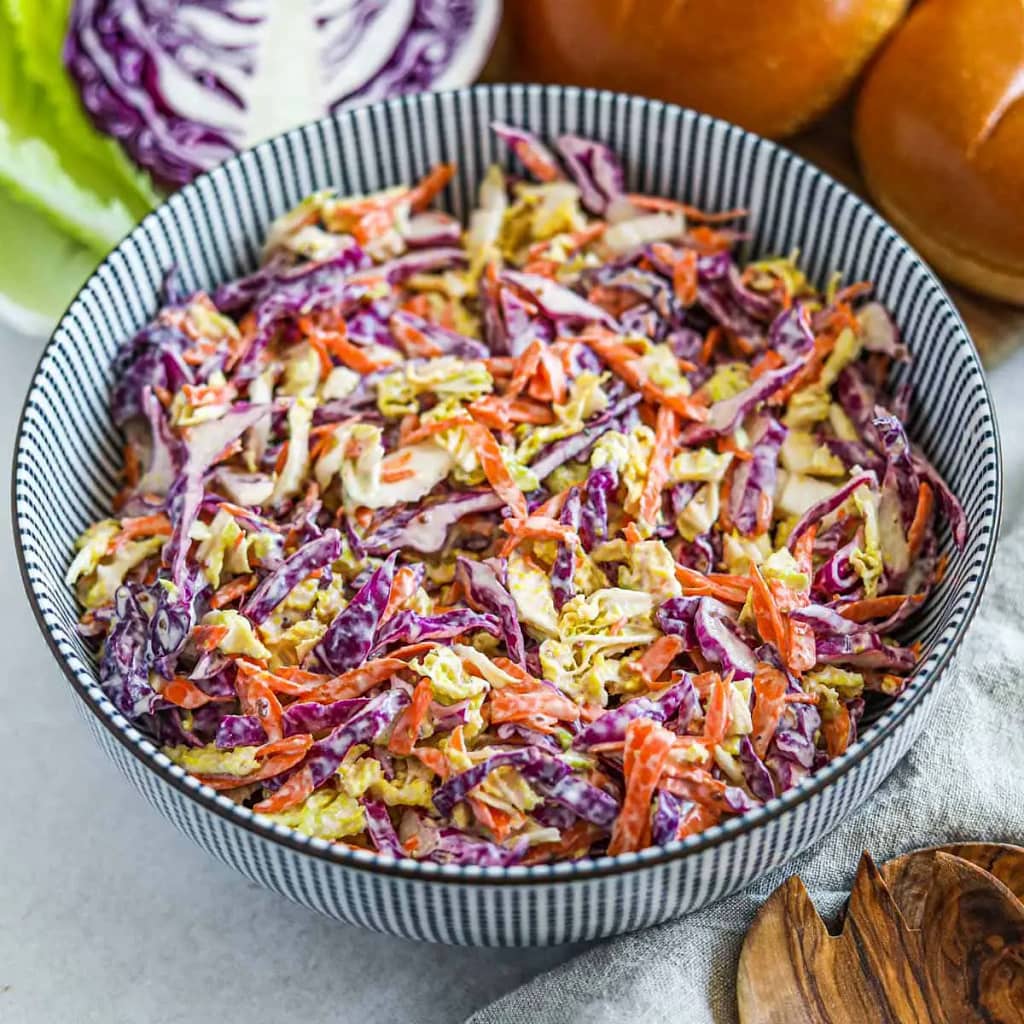 Table of Contents
How to make Greek Yogurt Coleslaw?
Ingredients:
1/2 head of green cabbage, shredded
1/2 head of red cabbage, shredded
Two large carrots, grated
1/2 red onion, thinly sliced
1/2 cup Greek yogurt
1/4 cup apple cider vinegar
Two tablespoons honey
One tablespoon of Dijon mustard
1/2 teaspoon celery salt
Salt and pepper, to taste
Instructions:
1. Mix the shredded green and red cabbage, grated carrots, and sliced red onion in a large bowl.
2. Whisk together the Greek yogurt, apple cider vinegar, honey, Dijon mustard, celery salt, salt, and pepper in a separate bowl.
3. Pour the dressing over the cabbage mixture and toss to coat.
4. Cover the bowl with plastic wrap and chill in the refrigerator for at least an hour.
5. Before serving, stir the coleslaw and adjust the seasoning if needed.
This Greek Yogurt Coleslaw is perfect as a side dish or a topping for sandwiches or burgers. It is refreshing, crunchy, and creamy and guaranteed to be a crowd-pleaser. Plus, it is healthier than traditional coleslaw, so that you can enjoy it without guilt.
Take To Prepare
Preparation Time: 20 minutes
Total Time: 1 hour (including 40 minutes of chilling time)
Servings: 6-8 servings
Nutritional Information:
Here is the approximate nutritional information for one serving (assuming six servings total):
Note that nutritional information may vary depending on the ingredients and serving size.
Is coleslaw good for you?
Coleslaw can be a healthy addition to your diet if made with fresh ingredients and a light dressing. Traditional coleslaw recipes often include mayonnaise and sugar, which can add extra calories and fat. However, you can make a healthier version using Greek yogurt or a vinaigrette dressing and add plenty of fresh veggies, such as shredded cabbage, carrots, and broccoli.
Is coleslaw better than mayonnaise?
Coleslaw can be better than mayonnaise if you want a lighter and more nutritious option. Traditional mayonnaise is high in calories and fat, while coleslaw can provide more fiber and vitamins. However, it depends on the ingredients and the type of dressing used in the coleslaw recipe. If the coleslaw is made with a creamy dressing that includes mayonnaise, the nutritional value may be similar to that of mayonnaise.
Why is it called coleslaw?
The word "coleslaw" comes from the Dutch word "koolsla," which means "cabbage salad." Coleslaw originated in the Netherlands in the 18th century and was brought to America by Dutch immigrants. It became popular in the United States during the 19th century and has become a staple side dish in many American meals.
What is creamy coleslaw made of?
Creamy coleslaw is typically made with shredded cabbage, carrots, and other vegetables, such as broccoli, red onion, or bell pepper. The creamy dressing is usually made with mayonnaise, sour cream, Greek yogurt, vinegar, sugar, salt, and pepper. Some recipes may also include ingredients such as mustard, celery seed, or grated onion to add more flavor.
conclusion
If you want a healthier alternative to traditional coleslaw, try Greek Yogurt Coleslaw. It is easy to make, delicious, and good for you. This recipe allows you to enjoy a classic dish without sacrificing your health goals.