Cucumbers are a popular vegetable for salads due to their refreshing taste, crunch, and low-calorie content. A healthy cucumber salad is an excellent choice if you're looking for a healthy salad option. This simple recipe is easy to make and requires only a few ingredients. Here's how to make a healthy cucumber salad.
Table of Contents
How to make healthy cucumber salad?
Ingredients:
Two cucumbers
One small red onion
1/4 cup apple cider vinegar
One tablespoon honey
One tablespoon of olive oil
Salt and pepper to taste
Fresh dill (optional)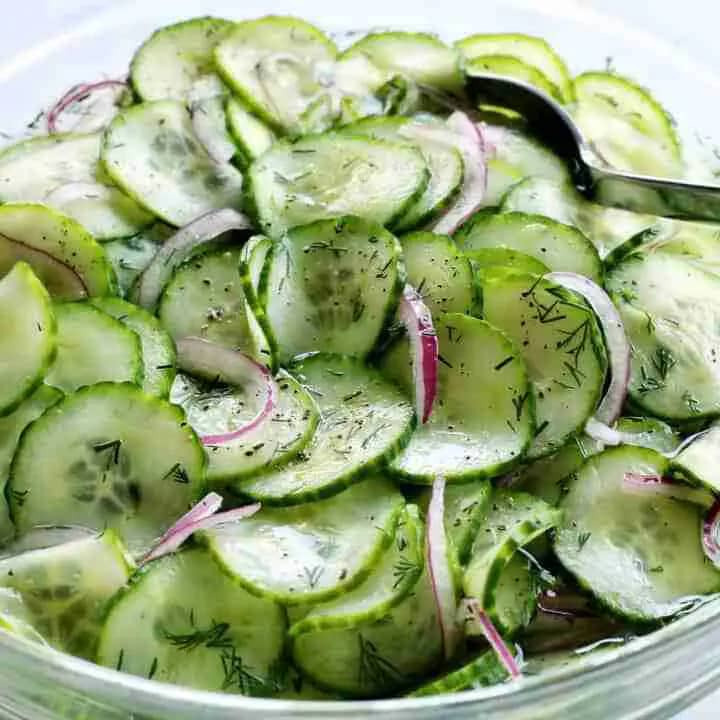 Instructions:
Begin by washing and peeling the cucumbers. Cut them into thin slices.
Peel the red onion and slice it into thin rings.
Whisk together the apple cider vinegar, honey, and olive oil in a small bowl until well combined.
Add the sliced cucumbers and red onion to a large bowl.
Pour the dressing over the vegetables and toss to combine.
Season with salt and pepper to taste.
If desired, sprinkle fresh dill over the top for added flavor.
Tips for making a perfect cucumber salad:
1. Use a mandolin or vegetable slicer to get a uniform cucumber and onion slices.
2. Let the salad marinate in the dressing for at least 30 minutes before serving. It will allow the flavors to meld together.
3. To make the salad healthier, add other vegetables, such as sliced bell peppers, cherry tomatoes, or shredded carrots.
Benefits of eating cucumber salad:
1. Cucumbers are low in calories and water content, making them a great weight-loss choice.
2. They are also rich in antioxidants, which help protect against chronic diseases such as heart disease and cancer.
3. The apple cider vinegar in the dressing may help regulate blood sugar levels and improve digestion.
4. The honey in the dressing provides a natural sweetener that is healthier than refined sugar.
Take To Prepare:
Preparation Time: 15 minutes
Total Time: 45 minutes (including marinating time)
Servings: 4-6
Nutritional Information:
Here's the approximate nutritional information per serving (based on four servings):
Note: The nutritional information may vary slightly depending on the size and type of cucumbers used and the amount of dressing applied.
Are cucumber salads good for you?
Yes, cucumber salads are generally good for you as cucumbers are low in calories and high in nutrients such as vitamin K, vitamin C, potassium, and magnesium. They are also a good source of antioxidants and have been linked to various health benefits, such as reducing the risk of heart disease and cancer.
Are cucumbers and tomatoes healthy?
Cucumbers and tomatoes are also a healthy combination as both vegetables are low in calories and high in nutrients. Tomatoes are a good source of vitamin C, vitamin K, potassium, and lycopene, an antioxidant linked to reducing the risk of cancer and heart disease.
How to make cucumber salad for weight loss?
To make a cucumber salad for weight loss, using a simple dressing made with vinegar and herbs instead of creamy sauces high in calories is best. You can add other low-calorie vegetables such as bell peppers, onions, and carrots to the salad to increase the nutrient content and flavor.
What goes well with cucumbers?
Cucumbers pair well with many other vegetables, such as tomatoes, onions, bell peppers, and carrots. They also go well with dill, mint, and parsley. You can add protein sources such as grilled chicken, tofu, or chickpeas for a more substantial salad. Cucumbers can also be used in sandwiches or as a healthy snack with hummus or tzatziki.
conclusion
 A healthy cucumber salad is a simple and delicious way to add more vegetables to your diet. It's low in calories, high in nutrients, and easy to make. Plus, it's a refreshing dish perfect for hot summer days. Give this recipe a try and enjoy all the benefits of eating fresh, healthy food