You're in for a treat if you love cheesecake and peanut butter. This Peanut Butter Cheesecake Recipe is the ideal mix of rich, smooth peanut butter and smooth cheesecake; all settled on top of a fresh graham saltine covering. This pastry is ideally suited for any event, from birthday events to occasions, and makes sure to be a group pleaser. Whether you're a carefully prepared pastry specialist or a beginner, this recipe is easy to follow, and the outcomes are dependably delicious. Thus, we should get everything rolling!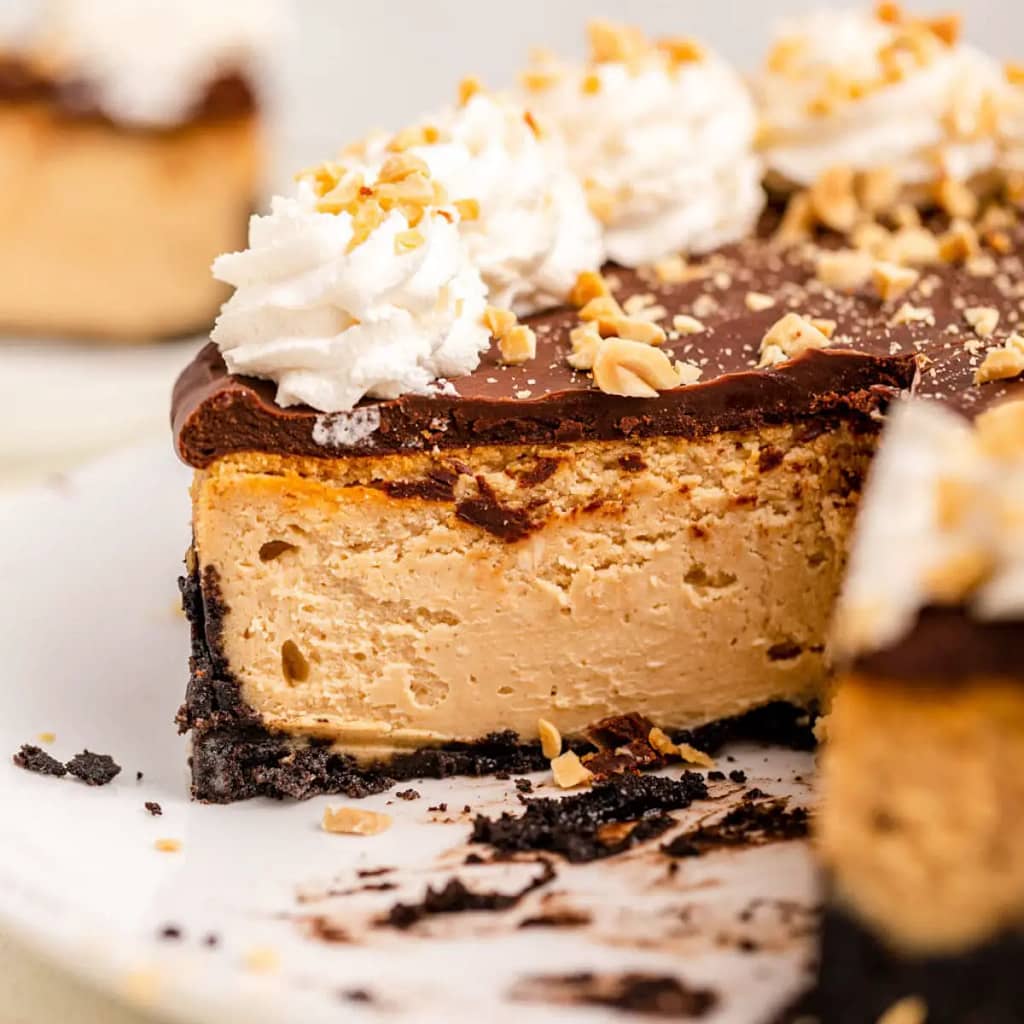 Table of Contents
How To Make Peanut Butter Cheesecake Recipe?
Ingredients
Crust:
1 1/2 cups graham cracker crumbs
1/4 cup granulated sugar
1/2 cup unsalted butter, melted
Filling:
3 (8 oz) packages of cream cheese, softened
1 cup creamy peanut butter
1 cup granulated sugar
1 tsp vanilla extract
3 large eggs
1/2 cup heavy cream
Instructions
1.Preheat oven to 325°F (165°C).
2. Prepare the crust by mixing graham cracker crumbs, sugar, and melted butter in a medium bowl. 3. Press the mixture into the bottom of a 9-inch (23 cm) springform pan.
4. In a large mixing bowl, beat cream cheese and peanut butter until smooth and creamy. Add sugar and vanilla extract, and continue to beat until well combined.
5. Add the eggs one at a time, beating well after each addition. Stir in the heavy cream.
6. Pour the filling over the crust and smooth the top.
7. Bake for 45-50 minutes or until the edges are set but the center is slightly jiggly.
8. Remove from the oven and let it cool to room temperature. Then, cover and refrigerate for at least 4 hours or overnight.
9. Serve the peanut butter cheesecake topped with chopped peanuts or chocolate syrup, if desired.
10. Enjoy this creamy and delicious peanut butter cheesecake recipe!
Take To Prepare Peanut Butter Cheesecake Recipe
Preparation Time: 20 minutes
Cooking Time: 45-50 minutes
Total Time: Approximately 1 hour and 10 minutes (plus 4 hours or overnight refrigeration time)
Servings: 8-12 servings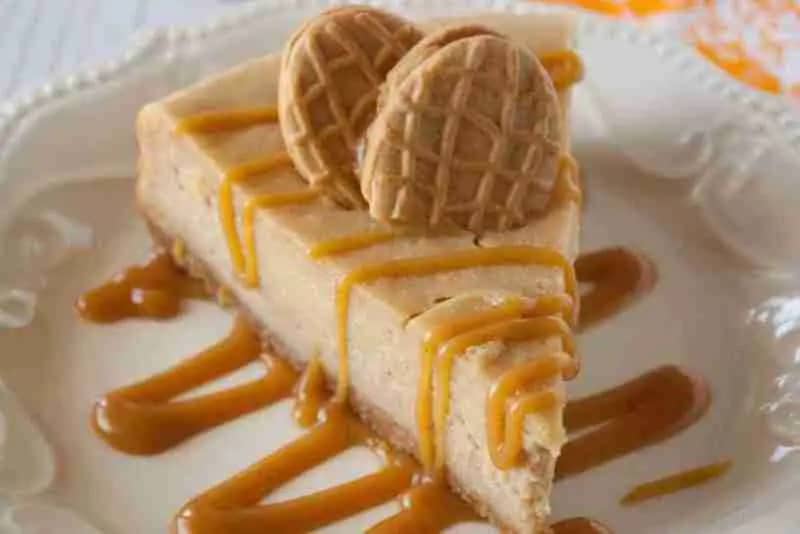 Nutrition Facts Of Peanut Butter Cheesecake Recipe
Here is a rough estimate of the nutrition facts for one serving of Peanut Butter Cheesecake (based on 12 servings per recipe):
5 best fantastic health benefits of Peanut Butter Cheesecake Recipe
A Wellspring of Protein: Peanut butter is a rich wellspring of protein, which is fundamental for building and fixing tissues in the body. One serving of peanut butter cheesecake gives around 9 grams of protein.
Good Fats: Peanut butter is a decent wellspring of solid fats, including monounsaturated and polyunsaturated fats, which have been displayed to develop heart well-being further and support sound cholesterol levels.
Fiber: Peanut butter is likewise a decent wellspring of fiber, which controls the processing and may assist with bringing down the gamble of coronary illness.
Vitamin E: Peanut butter is a rich wellspring of vitamin E, a cell reinforcement that shields cells from harm and supports a sound-resistant framework.
Temperament Sponsor: Eating peanut butter cheesecake can likewise support your state of mind and assist you with feeling fulfilled and content on account of the blend of protein, good fats, and sugars.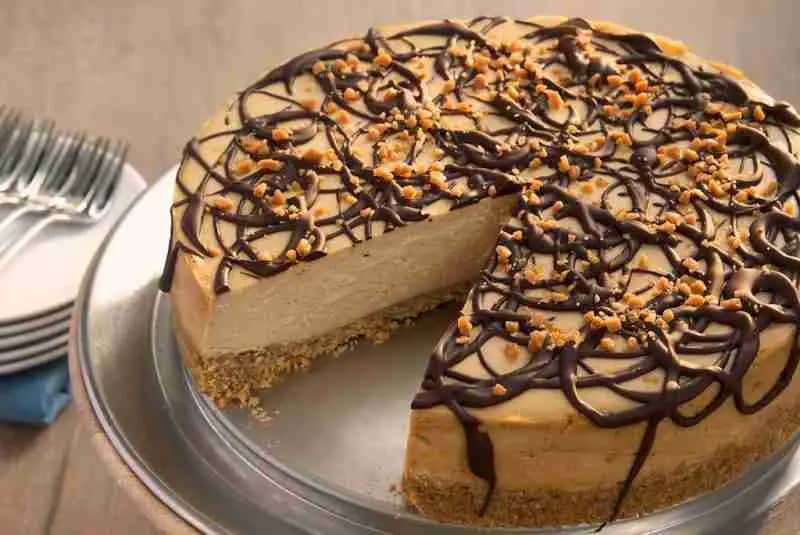 FAQs
How To Long Store And Freeze Peanut Butter Cheesecake Recipe?
Storing Peanut Butter Cheesecake:
Peanut butter cheesecake can be put away in the fridge for as long as 4 days, covered firmly with cling wrap or aluminum foil. It's ideal for storing it in a water/airproof compartment to keep it from engrossing different flavors or scents from the fridge.
Freezing Peanut Butter Cheesecake:
Peanut butter cheesecake can likewise be frozen for as long as 90 days. To freeze, wrap the cheesecake firmly with saran wrap or aluminum foil and place it in a cooler safe compartment or plastic sack. When prepared to eat, defrost the cheesecake in the cooler short-term and serve it chilled.
What Is Elvis Cheesecake?
Elvis Cheesecake is a pastry motivated by the famous performer Elvis Presley and his affection for peanut butter and banana sandwiches. A variety of traditional cheesecake integrates peanut butter and banana into the filling and is frequently finished off with hacked peanuts or bacon. The outside is typically made with graham saltines or vanilla wafers, and the cheesecake filling is a mix of cream cheddar, sugar, peanut butter, and squashed bananas. The outcome is a sweet and rich cheesecake with an unmistakable peanut butter and banana flavor, ideal for enthusiasts of the "Lord of Rock and Roll."
Is It Better To Bake Or Not Bake Cheesecake?
It relies upon the individual inclination and the cheesecake you are making.
Prepared Cheesecake: Heated cheesecake is the conventional strategy for making cheesecake and results in a thick and rich surface. It's heated in a springform skillet in a water shower to forestall breaking and guarantee a smooth and even surface. Heated cheesecake is usually served chilled and can be embellished with a natural product, chocolate, or different garnishes.
No-Prepare Cheesecake: No-heat cheesecake is a lighter and fluffier option than prepared cheesecake. It's made by blending cream cheddar, sugar, and different fixings and setting them in the cooler or cooler until firm. No-prepare cheesecake is an excellent choice for people who need a fast and simple treat that doesn't need baking or for people who live in blistering environments where it isn't attractive to heat in the broiler.
What Are 3 Styles Of Cheesecake?
New York-Style Cheesecake: This is a work of art, conventional cheesecake, that the vast majority know all. It's rich, thick, and velvety, with a graham saltine or vanilla wafer outside. New York-style cheesecake is ordinarily prepared in a water shower to forestall breaking and guarantee a smooth surface.
Italian-Style Cheesecake: Italian-style cheesecake is a lighter, fluffier option than New York. It's made with ricotta cheddar, which brings about a delicate, vaporous surface. It's frequently enhanced with lemon or orange zing, and the outside is made with almonds or nuts.
Japanese-Style Cheesecake: Japanese-style cheesecake is a unique interpretation of traditional cheesecake characterized by its light, soft, and soufflé-like surface. It's made with a mix of cream cheese, cheddar, egg whites, and sugar and is often prepared in a water shower to guarantee a smooth and even surface. The subsequent cheesecake is less sweet and has a sensitive, vaporous quality that separates it from other styles.
What Is The Difference Between NY Cheesecake And Regular Cheesecake?
New York-style cheesecake and standard cheesecake allude to a similar sort of treatment. "New York-style cheesecake" is a term used to portray the work of art, a thick and smooth cheesecake that is generally ordinarily connected with New York City. This cheesecake style is described by its rich and tart flavor, smooth and velvety surface, and graham saltine or vanilla wafer outside layer.
Standard cheesecake is a broader term that can allude to a cheesecake, including New York style. Notwithstanding, generally speaking, "ordinary cheesecake" is utilized to depict the good New York-style cheesecake that is well-known and cherished.
Conclusion
The peanut butter cheesecake recipe is a delicious and liberal treat that joins the smooth surface of cheesecake with the nutty and sweet peanut butter. Whether you love prepared or no-heat cheesecake, this recipe is not difficult to follow and can be adjusted to your taste inclinations.
The peanut butter option to the cheesecake filling adds flavor, yet it likewise gives a wellspring of solid fats and protein. Whether you're serving it for an exceptional event or enjoying a sweet treat, this peanut butter cheesecake is sure to fulfill your taste buds and leave you feeling blissful and fulfilled.