Are you ready to embark on a delightful journey through the world of cookies? If so, you're in for a treat! Today, I'm going to share with you my secret recipe for Penn Station Cookies.
These mouthwatering cookies are not only a breeze to make but also a true crowd-pleaser. Whether you're a seasoned baker or a novice in the kitchen, this recipe is perfect for you. So, let's get those aprons on and dive into the art of baking these irresistible cookies.
Who This Recipe Is For
This Penn Station Cookie Recipe is for everyone who craves a sweet indulgence. Whether you want to surprise your family with a homemade dessert or impress your friends at a potluck, these cookies will steal the show.
They're also a fantastic project for those looking to introduce their kids to the joys of baking. Plus, these cookies are so versatile that you can customize them to suit various dietary preferences.
Table of Contents
Why This Recipe Is Great
What makes this Penn Station Cookie Recipe stand out is its simplicity and the incredible results it yields. Here's why it's a winner:
Easy Ingredients: You don't need any fancy or hard-to-find ingredients. Everything you need is likely already in your pantry.
Quick Preparation: This recipe won't keep you tied up in the kitchen for hours. In just a short time, you'll have freshly baked cookies.
Customizable: Feel free to add your favorite mix-ins like chocolate chips, nuts, or dried fruits to make these cookies truly your own.
Perfect Texture: The cookies strike the right balance between crispy edges and a soft, chewy center.
Kid-Friendly: It's a fantastic way to involve kids in the kitchen and teach them the basics of baking.
Now, let's get down to the delicious details.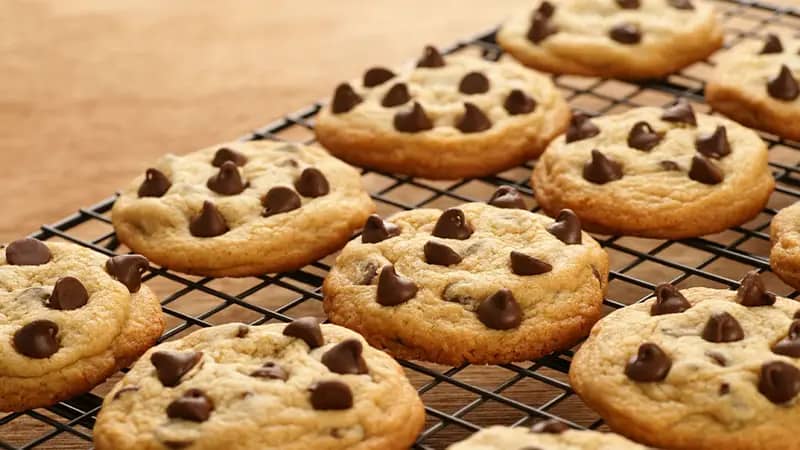 How To Prepare Penn Station Cookie Recipe
Kitchen Equipment
Mixing Bowls
Hand Mixer or Stand Mixer
Baking Sheets
Measuring Cups and Spoons
Cookie Scoop or Spoon
Cooling Rack
Spatula
Oven
Ingredients
2 1/4 cups all-purpose flour
1/2 teaspoon baking soda
1 cup unsalted butter, at room temperature
1/2 cup granulated sugar
1 cup packed light-brown sugar
1 teaspoon salt
2 teaspoons pure vanilla extract
2 large eggs
2 cups semisweet and/or milk chocolate chips
Directions
Step 1: Preheat Your Oven
Preheat your oven to 350°F (175°C) and line your baking sheets with parchment paper. This will prevent the cookies from sticking.
Step 2: Combine Dry Ingredients
In a medium-sized bowl, whisk together the flour and baking soda. Set this mixture aside for now.
Step 3: Cream the Butter and Sugars
In a separate large bowl, use your hand mixer or stand mixer to beat the butter, granulated sugar, light-brown sugar, and salt until the mixture becomes light and fluffy. This usually takes about 2 minutes.
Step 4: Add Vanilla and Eggs
Add the vanilla extract and eggs to the butter-sugar mixture. Beat until well combined.
Step 5: Gradually Add Dry Ingredients
With your mixer on low speed, gradually add the flour mixture. Mix until just combined.
Step 6: Fold in Chocolate Chips
Using a spatula, fold in the chocolate chips until they are evenly distributed throughout the cookie dough.
Step 7: Scoop and Bake
Use a cookie scoop or a spoon to drop rounded tablespoons of dough onto your prepared baking sheets, spacing them about 2 inches apart.
Step 8: Bake to Perfection
Bake in the preheated oven for about 10–12 minutes, or until the edges are golden but the centers are still soft. Be sure not to overbake!
Step 9: Cool and Enjoy
Once out of the oven, let the cookies sit on the baking sheets for a couple of minutes before transferring them to a cooling rack. Allow them to cool for at least 10 minutes before indulging in their gooey goodness.
Nutrition Facts Of Penn Station Cookie Recipe
Certainly, here are the approximate nutrition facts for one serving (one cookie) of our Penn Station Cookies:
Calories: 150
Total Fat: 8g

Saturated Fat: 4.5g
Trans Fat: 0g

Cholesterol: 25mg
Sodium: 85mg
Total Carbohydrates: 20g

Dietary Fiber: 1g
Sugars: 13g

Protein: 2g
take to prepare
Preparation Time: 15 minutes
Cooking Time: 10–12 minutes per batch
Total Time: Approximately 25–27 minutes (excluding cooling time)
Servings: This recipe makes about 24–30 cookies, depending on the size of your cookie scoops or spoonfuls.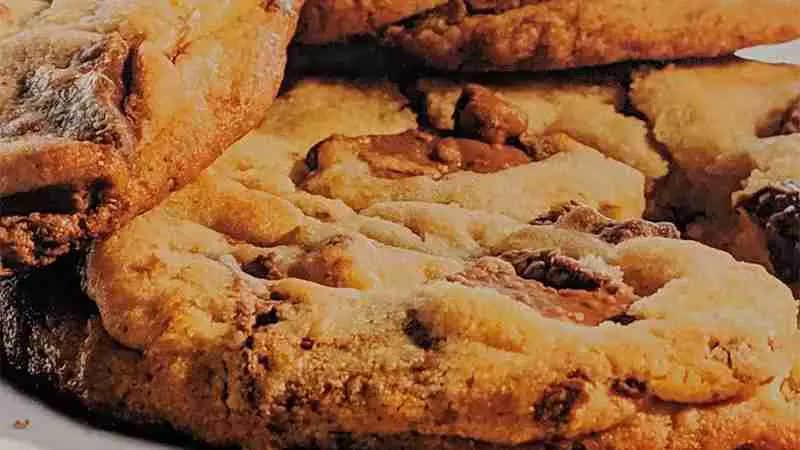 FAQs
1. Can I use salted butter instead of unsalted butter?
Yes, you can, but be mindful of the additional saltiness. You may want to reduce the amount of salt called for in the recipe.
2. Can I freeze the cookie dough for later?
Absolutely! Scoop the dough onto a baking sheet and freeze until solid. Then transfer the cookie dough balls to a freezer bag. When ready to bake, simply place the frozen dough balls on a baking sheet and add a minute or two to the baking time.
3. Can I substitute whole wheat flour for all-purpose flour?
You can, but keep in mind that it will result in a denser texture and a slightly nuttier flavor.
4. How do I prevent my cookies from spreading too much?
Chilling the dough for about 30 minutes before baking can help reduce spreading. Also, ensure your baking sheets are cool before placing more dough on them.
5. Can I use different types of chocolate chips?
Absolutely! Experiment with white chocolate, dark chocolate, or even peanut butter chips to create unique flavor combinations.
10 best tips
Use room-temperature ingredients: Make sure your butter and eggs are at room temperature. This helps create a smoother cookie dough.
Properly Measure Ingredients: Use proper measuring cups and spoons for accuracy, especially with the flour. Level off ingredients like flour and sugar for precise measurements.
Don't Overmix: When combining the wet and dry ingredients, mix until just combined. Overmixing can lead to tough cookies.
Chill the Dough: If the dough is too soft, chilling it in the refrigerator for about 30 minutes can make it easier to work with and reduce spreading during baking.
Consistent Cookie Sizes: Use a cookie scoop or spoon to portion out the dough evenly. This ensures all your cookies will be the same size and bake uniformly.
Watch the Baking Time: Keep a close eye on the cookies in the oven. They're done when the edges are lightly golden, but the centers are still soft. Overbaking can result in dry cookies.
Cool on a Rack: After removing the cookies from the oven, transfer them to a cooling rack rather than leaving them on the hot baking sheet. This prevents them from continuing to cook and becoming overly crispy.
Mix-In Variations: Get creative with your mix-ins! Besides chocolate chips, try adding chopped nuts, dried fruit, or even a sprinkle of sea salt on top before baking for a gourmet touch.
Storage: Store any leftover cookies in an airtight container at room temperature. To keep them fresh longer, you can also freeze them for future enjoyment.
Customize: Feel free to customize this recipe to your taste. Add a touch of cinnamon or nutmeg for extra flavor, or use different types of chocolate chips for variety.
Storing Leftovers
If you happen to have any leftovers (which is quite rare with these cookies), store them in an airtight container at room temperature. They'll stay fresh for up to a week. For longer storage, you can freeze them for up to three months.
Food and Drink Pairings
Penn Station Cookies are excellent on their own, but they also pair wonderfully with a glass of cold milk or a scoop of vanilla ice cream. For a more sophisticated twist, serve them alongside a hot espresso or a creamy latte.
Conclusion
In the world of cookies, the Penn Station Cookie Recipe is a true gem. With its simplicity and versatility, it's a recipe that suits everyone, from beginners to experienced bakers.
So, why wait? Head to your kitchen and whip up a batch of these delectable treats. And if you love them as much as I do, don't forget to share the recipe with your friends and family. Happy baking!