Raspberry Crumble Cookies Recipe is one of the best cookies to bake during the holidays. It is a moist, soft cookie topped with raspberry-flavored crumble. The crumble has a butter base and an oatmeal cookie dough that gives it texture and flavor. The raspberry, lemon zest, and almond flavors are perfect for the holidays. These cookies are easy to bake, and preparing the crumble requires you to be organized.
Why I Love This Recipe?
These cookies are delicious and easy to make.
I love the fact that they have low-fat content.
They are easy to bake, and the prep work is minimal.
Raspberry Crumble Cookies Recipe is the perfect holiday dessert.
The raspberry aroma of the fresh berries is fantastic.
It tastes AMAZING!
There is no egg in these cookies, so they are also suitable for vegans!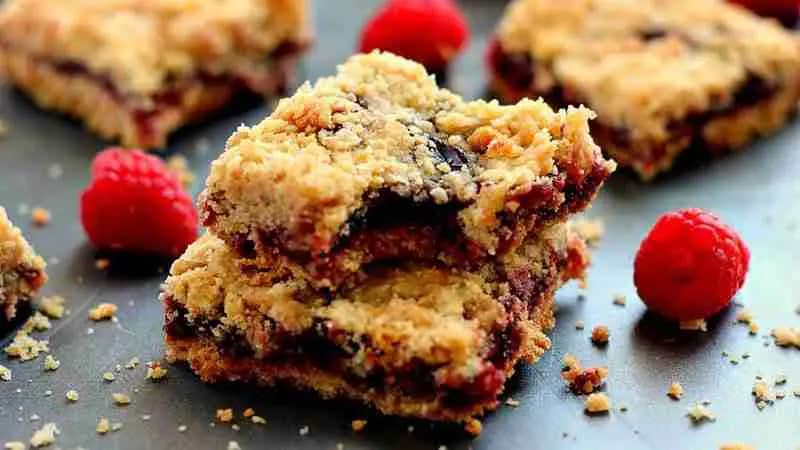 How to Make Raspberry Crumble Cookies Recipe?
Necessary Ingredients:
3/4 cup (1 1/2 sticks) unsalted butter, softened
2 cups unbleached all-purpose flour
One teaspoon of baking soda
Two teaspoons finely grated lemon zest (from 2 lemons)
One teaspoon of almond extract
1/3 cup granulated white sugar
3/4 cup packed light brown sugar
1 cup fresh raspberries
1/2 cup white chocolate chips
1 1/2 cups all-purpose flour
One teaspoon of baking powder
Two teaspoons cornstarch
1/2 teaspoon salt
1 cup fresh raspberries, divided use
Preparation Instructions
Step 1.
Preheat oven to 350F. Line two baking sheets with parchment paper.
Step 2.
In a large bowl, cream butter and sugars until light and fluffy. Beat in extract and raspberries with a wooden spoon. In a separate bowl, stir flour, baking soda, almond extract, and salt; gradually add to the butter mixture. Mix well.
Step 3.
Drop a tablespoonful of dough onto baking sheets (about 2 inches apart) with a spoon; flatten slightly with your fingers or the back of the spoon. Bake for 10-12 minutes or until golden brown around the edges. Set aside to cool.
Step 4.
In a saucepan, melt butter over medium heat; stir in flour, baking powder, and salt until smooth (about 1 minute). Slowly whisk in milk, increase heat to medium-high and cook until thickened (about 5 minutes). Remove from heat, and stir in 1/2 cup of raspberries; set aside.
Step 5.
Mix the remaining 1/2 cup raspberries, white chocolate chips, and 1/4 cup sugar. Sprinkle melted butter mixture over the raspberries; knead into a dough. Preheat oven to 375F again.
Step 6.
Spoon some of the mixtures onto a sizeable ungreased sheet of parchment paper; flatten slightly with your fingers or the back of a spoon (about 1/4 inch). Top with remaining dough, gently press down to adhere, and form a crumble.
Step 7.
Place crumble on a prepared baking sheet, and bake for 12-15 minutes or until golden brown around the edges. Remove from the baking sheet, and transfer to a wire rack to cool completely.
Step 8.
While the cookie crumbles are cooling, make the raspberry filling by stirring together 1 cup icing sugar and two tablespoons fresh lemon juice until smooth. Add remaining 1/2 cup raspberries, and stir until combined (mixture will begin to release juices).
Step 9.
Spoon prepared raspberry filling into a plastic piping bag with a star-shaped tip; pipe onto cookie crumbles, or place cakes in the middle of the cookies and spread with a knife. Store in an airtight container.
Step 10.
Serve cookie crumbles on dessert plates; top cookies with dollops of icing, and garnish as desired.
Cooking Tips
Use a sturdy cookie sheet to make these cookies.
If you do not have baking powder, use baking soda instead.
You may substitute brown sugar for white sugar.
You may substitute fresh raspberries for frozen ones.
You do not need an electric mixer to make this recipe because you fold the ingredients by hand.
I used a plastic piping bag with a star-shaped tip, but you may use a zip-loc bag instead; cut off one corner of the bag and pipe out the filling.
These cookies are perfect for gift-giving during holiday parties and get-togethers with family, friends, and co-workers!
Take To Prepare Raspberry Crumble Cookies Recipe
Preparation time: 15-20 minutes
Cooking time: 10-15 minutes
Total Time: 35 minutes
Difficulty level: easy
Servings: 30
Nutrition Facts Of Raspberry Crumble Cookies Recipe
Amount Per Serving
Nutrition data is approximate and is for information only.   Nutrition Facts may not be exact because the recipe has been altered and re-tested several times to ensure its accuracy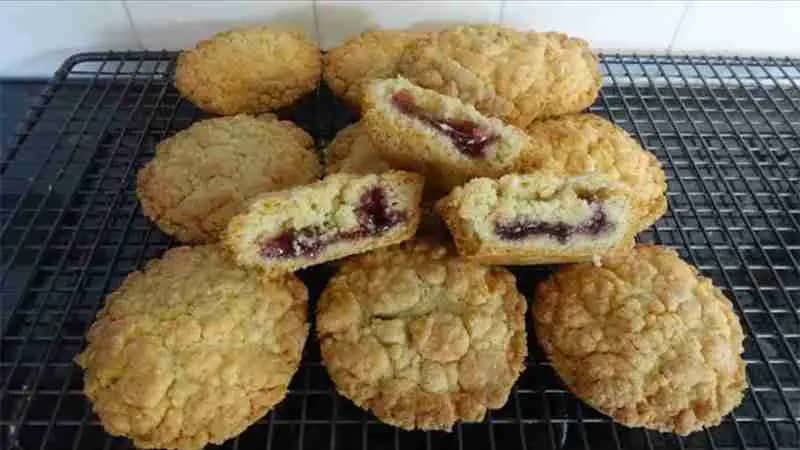 05 Amazing Health Benefits of Raspberry Crumble Cookies Recipe
1. Raspberry is an excellent source of vitamins C and K and antioxidants.
2. White chocolate is rich in flavonoids, minerals, and vitamins. It also has antioxidant activity because it contains catechins and proanthocyanidins, which can protect the body from harmful free radicals.
3. Flour contains dietary fiber, a carbohydrate that your body can't digest. Fiber can make you feel full longer, therefore controlling hunger cravings.
4. Baking powder is a mixture of baking soda and cream of tartar that is used as leavenings in foods. It helps to make the cake rise when it's heated and then cooled by allowing bubbles to form in the batter when heated.
5. Raspberries are high in fiber content that helps prevent constipation and maintain a healthy digestive tract.
6. Almonds are great for heart health because calcium in almonds reduces plaque buildup in arteries, reducing the risk of heart attacks and strokes.
7. Milk is a rich source of calcium, protein, and phosphorus that helps to build strong bones and teeth, prevent osteoporosis and tooth decay, improve the body's ability to absorb iron, and make red blood cells that deliver oxygen throughout the body.
Are Costco's raspberry crumble cookies good?
Costco's raspberry crumble cookies can be an excellent choice for a gift. They are very yummy and so delicious. They are not hard to prepare, but the result is very satisfying. Preparation is a bit time-consuming, but the results will be delicious.
Can you freeze Costco raspberry crumble cookies?
They can be frozen, but you should store them covered with plastic wrap in an airtight container for up to four weeks. They would thaw very slowly and become dry, so you may want to prepare them a couple of days ahead.
What makes Crumbl cookies taste so good?
Crumbl cookies taste so good because they use high-quality ingredients to make these delicious cookies. The raspberry crumble cookies are made from premium baking flour and all-natural ingredients.
Should crumble be cooked before freezing?
Yes, it would be best to cook the crumble before storing it. Let it cool completely, and then transfer it into an airtight container. It is essential to cover the container with a zip lock so the batter will not dry up while in storage.
Is It Safe For Pregnant And Nursing Women?
Raspberries are suitable for pregnant and nursing women because they are rich in vitamin C. Vitamin C is a water-soluble vitamin that helps with iron absorption, making it ideal for mothers-to-be. Vitamin C also protects against infections, especially during pregnancy.
During lactation, the body uses many nutrients, including calcium, to make milk. Raspberries contain ascorbic acid or vitamin C, which helps absorb calcium to prevent bone loss.
Bottom Line
You will find these Raspberry Crumble Cookies Recipe tasty and yummy. They are easy to fix and make a great gift for your family and friends. You can also serve them during parties or family gatherings. They will make your holiday a lot more enjoyable.