Stone Fruit Cobbler Recipe is a nice, light dessert with summer stone fruit in a custardy topping. Stone fruits make an excellent addition to the fruit garden and can be enjoyed fresh or dried. Stone fruits are low in calories without the high sugar content found in many other fruits and vegetables.
Reaching for the dried fruit shelf during the summer is a great addition to recipes. Dried fruit adds sweetness, texture, and flavor to many dishes. Since dried fruit does not need added sugar, you can enjoy a sweet dish guilt-free.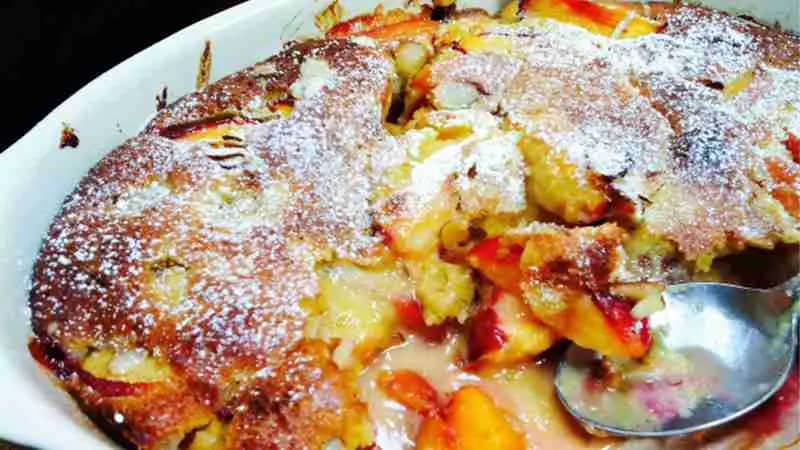 How To Make Stone Fruit Cobbler Recipe?
Necessary Ingredients
½ teaspoon salt
¾ cup granulated sugar
2 tablespoons cornstarch
½ cup chilled butter, cubed
2 tablespoons fresh lemon juice
1 cup old-fashioned oats, divided
⅓ cup all-purpose or whole wheat flour
½ cup packed brown sugar
1 teaspoon lemon zest
¼ cup almonds
Pinch of kosher salt
8 cups pitted and chopped stone fruit
Equipment Needed
Baking dish
8-inch round cake pan
Mixing bowl
Measuring cup
Measuring spoons
Wire whisk
Preparation Instructions
Step 1.
Preheat the oven to 350 degrees Fahrenheit.
Step 2.
Pour the fruit into a large bowl, and toss lightly with the granulated sugar. In a separate large bowl, combine the cornstarch, lemon zest, lemon juice, and salt.
Step 3.
Combine the flour, brown sugar, and salt in a medium-sized mixing bowl with a wire whisk and mix well until no lumps remain. Add butter cubes and use your hands to break the butter into smaller chunks until the mixture resembles coarse breadcrumbs.
Step 4.
Add flour to the fruit and toss until well combined, then spread onto a baking sheet. Place fruit in the dish and sprinkle with oats, almonds, and brown sugar. Dot with butter chunks.
Step 5.
Mix flour in a bowl until crumbly and slightly stiffer than breadcrumbs, then turn over the fruits so that the oatmeal side is on the bottom of the baking pan.
Step 6.
Bake in the oven for 35 to 45 minutes until the fruit bubbles, and the top is golden brown. Cool for 15 minutes before serving; serve warm with a scoop of ice cream or whipped cream, and enjoy!
Tips:
• Mix the stone fruit and sugar thoroughly after the first layer of fruit has been coated.
• Pour the dry ingredients on top of the fruit instead of in a separate bowl because this will help to get all the fruit covered with a crumbly topping.
• The following makes a great topping for this recipe:
Chopped pecans, brown sugar, butter, and cinnamon.
Nutrition Facts Of Stone Fruit Cobbler Recipe
Per Serving
The nutrition provided is an estimate. It will vary based on the specific ingredients used.
07 Amazing Health Benefits of Stone Fruit Cobbler Recipe
1. Weight Loss
Stone fruits are low in calories and high in fiber. Fiber aids digestion, preventing constipation and helping remove toxins from the body.
2. Healthy skin
Stone fruit is packed with fiber, which helps the body carry out daily functions, including removing toxins from the system and maintaining regularity. The toxin removal process can provide a cleanse for healthy skin.
3. Diabetes
Stone fruits contain inulin, a carbohydrate that helps slow down your body's absorption of sugar. It allows you to feel fuller longer.
4. Heart Health
Stone fruit contains a decent amount of heart-healthy antioxidants, which can help lower the risk of heart disease and stroke.
5. Lowers Cholesterol
Stone fruit is a good source of potassium. This mineral helps the body maintain normal blood pressure and regulate heart rhythm.
6. Metabolism
A diet with plenty of nutrients, including antioxidants, folic acid, fiber, and potassium, helps to speed metabolism and increase energy levels for overall health and well-being.
7. Healthy Pregnancy
Stone fruits contain folate, which helps prevent congenital disabilities. Folate can also help to keep the baby's spine and skull healthy.
Outstanding serving ideas Of Stone Fruit Cobbler Recipe
Cream-filled pie: This recipe is great for a special occasion dessert.
Short pieces of bread: Rice, banana, pumpkin, and more.
Dessert soups: Whip up a batch of the Classic Carrot Cake Soup for an indulgent fall dinner treat.
Dessert casserole: The perfect topping for a fruit cake or pancake topping.
Fruit Cobbler: Always popular!
Tea cake: A simple dessert idea with huge health benefits.
Baked apples: Even better than store-bought!
Why is my peach cobbler gummy?
Stone Fruit Cobbler Recipe can happen if you leave the peach cobbler to sit out for too long or if the peaches are not ripe.
Try this Stone Fruit Cobbler Recipe, even if you are not a big fan of fruit desserts. You will be pleasantly surprised at how good it is! A delicious dessert like Stone Fruit Cobbler Recipe can make your day! Enjoy this tasty treat today!
What is the consistency of a cobbler?
The cobbler recipe combines several things, including the fruit and the crumb topping. The fruit will be consistent between crumble and pie when making it into a cobbler. The crumb topping will take on a consistency like pie.
What kind of peaches are best for cobblers?
The best kinds of peaches are a blend of sweet and melon. They should be very ripe and soft but still maintain a little firmness.
How Long Will It Take To Prepare?
Prep Time: 15 minutes
Cook Time: 45 minutes
Total Time: 1 hour
Yield: 12 servings
Is It Safe For Pregnant And Nursing Women?
Stone Fruit Cobbler Recipe is safe to consume stone fruits in moderation. Pregnant and nursing women need folate, which is found in stone fruits.
Can I Freeze And Store It?
You can freeze the cobbler if you want to store it long-term. Store the cobbler in a freezer-safe container, and freeze it for up to 2 months.
Is It Gluten Free?
This dessert is gluten-free because of the oats. To make this recipe gluten-free, consider making a refined gluten-free version of the crumb topping recipe with oat flour instead of wheat flour.
Conclusion
This cobbler is perfect for a hot summer day. It is quick and easy to make and will be a family favorite. The fruit blends in beautifully with the oat-honey topping. Leftovers can be served as breakfast the next morning.
Please share this post with your friends and family if you like it. Also, comment with any suggestions about what fruit you would like me to cover next or if you have any questions.