Strawberry Crunch Crumble Recipe is a delicious and easy-to-make dessert recipe. It is perfect for summer parties, BBQs, or something sweet and satisfying to enjoy on a warm day. The crumble topping is made from scratch with fresh strawberries and brown sugar, then the rest of the ingredients are combined in a bowl.
A great dessert you'll want to make again and again. This simple, family-friendly recipe is quick to prepare and uses just a handful of ingredients! The crumble topping adds the perfect crunchiness to this tasty treat. You can top it with vanilla ice cream or pour sauce over it for a different flavor.
Why I Love This Recipe?
This easy Strawberry Crunch Crumble Recipe is perfect for making with kids.
The fresh strawberries make this a healthy dessert recipe! It is great for any time of the day!
It can be served warm or cold and is a unique dessert.
You can top it with reduced sugar or regular store-brand vanilla ice cream.
This recipe is gluten-free and dairy-free recipe.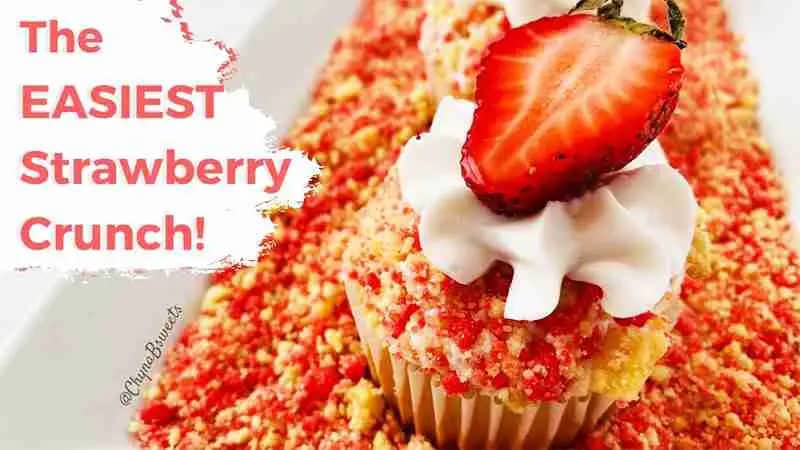 How to Make Strawberry Crunch Crumble Recipe?
Necessary Ingredients
1 cup of sliced fresh strawberries
1/3 cup of brown sugar (or white)
1/2 Tablespoon lemon juice (I used bottled because I didn't have fresh on hand)
1 1/2 teaspoon baking powder
1 teaspoon vanilla extract
2 teaspoons of unsalted butter, softened
Half a cup of flour (I used all-purpose)
Dried strawberry chips or crumbs for topping (optional).
Preparation Instructions
Step 1.
Preheat the oven to 350 degrees Fahrenheit.
Step 2.
In a small bowl, stir together the brown sugar, lemon juice, vanilla, and butter until it is smooth. Combine the flour and baking powder in a larger bowl. Add the brown sugar mixture to the dry ingredients and mix well by hand until you have a crumbly mixture.
Step 3.
Spread 2/3 cup batter into a greased 8X8 inch baking pan lined with parchment paper for easy removal later.
Step 4.
Top with the strawberry slices, pressing them into the batter. Sprinkle with 1/3 cup crumble topping, then top that with the remaining batter.
Step 5.
Bake for 40 minutes or until a cake tester inserted in the center comes clean. Cool on a wire rack for 20 minutes, then top with ice cream and serve warm or cold.
Cooking Tips
You can use fresh or frozen strawberries for this recipe.
Add some chopped peanuts for a nutty flavor, or sprinkle with coconut for sweetness.
Add some chopped pecans or walnuts to top the crumble topping!
You can freeze this dessert before serving to make it even easier to prepare ahead of time, but be sure to thaw it in the refrigerator before serving at room temperature, or it will become soggy.
Take To Prepare Strawberry Crunch Crumble Recipe
Preparation time: 10-15 Minutes
Cooking time: 40 Minutes
Total time: 55 Minutes
Servings: 8 Servings
Nutrition Facts Of Strawberry Crunch Crumble Recipe
Amount per serving (1 serving)
Nutrition data is approximate and is for information only. Nutrition Facts may not be exact because the recipe has been altered and re-tested several times to ensure its accuracy.
05 Amazing Health Benefits of Strawberry Crunch Crumble Recipe
1. Strawberries are a good source of manganese and vitamin C. They also contain smaller amounts of copper, dietary fiber, vitamin B6, folate, potassium, choline, and omega-3 fatty acids. The phytonutrients in strawberries may help protect against cancer.
2. It is a great source of dietary fiber and has plenty of manganese to boost your antioxidant intake for better overall health.
3. Strawberries also contain high levels of vitamin C, a powerful antioxidant that fights signs of aging and boosts immunity while improving wound healing.
4. Strawberries are one of the highest natural sources of melatonin. So, if you have difficulty falling asleep at night, this is a fruit you should add to your diet or juice! Melatonin in strawberries eases anxiety and stress and has even been known to help improve the quality of your sleep and your sex life!
5. Strawberries help boost your immune system and can help fight diseases like acne, colds, and flu. They contain significant amounts of antioxidant flavonoids and polyphenols, which prevents inflammation from arthritis and other inflammatory diseases. They also contain the antioxidant anthocyanin, which helps protect against lung cancer.
6. Strawberries are very high in vitamin C, a powerful nutrient that's been shown to boost immunity and help prevent cancer.
FAQ Section
What is Strawberry Crunch made of?
Strawberry Crunch Crumble Recipe is made from sliced fresh strawberries, vanilla extract, and brown or white sugar. The topping is made with flour, butter, brown sugar, and lemon juice.
What Is Strawberry Shortcake Crumble Made Of?
Strawberry Shortcake Crumble Recipe is made of small pieces of bread soaked in milk and butter and then topped with fresh strawberries, sugar, and a thickened cream.
What Is A Mango Crunch?
Mango Crunch is made from chopped fresh mango, sugar, lemon juice, and cornflakes. It is topped with roasted peanuts. Mango crunch can be served with ice cream or without it.
What Is Crumble Topping Made Of?
The crumble topping is made of flour, butter, brown sugar, and lemon juice.
What Does Baking Powder Do In A Crumble?
A baking powder is a leavening agent that causes a batter or dough to rise. When you add baking powder to a mixture and bake it, the chemical reaction occurs slowly and faster as it continues to heat up, causing the batter and dough to rise. Baking soda is an example of a baking powder.
What's The Difference Between A Crumble And A Streusel?
Are Shortcake And Shortbread The Same?
Shortcake is a pastry with a biscuit-like filling, which can range from sweet to savory. It is often eaten with whipped cream or fruits. Shortbread refers to a family of baked goods prepared with flour, sugar, butter, or oil, and sometimes oats.
Is It Safe For Pregnant And Nursing Women?
Yes, it is safe for pregnant and nursing women. However, you should avoid eating excessive quantities of it because strawberries contain oxalic acid, which may cause mild abdominal pain or irritation.
How To Store And Freeze It?
You can store strawberry crunch in an airtight container inside the fridge. You can store it for up to 1 week. You can also freeze it by placing the container into the freezer and storing it for up to 3 months.
Strawberry crunch cake:
Strawberry crunch cake is a layered dessert consisting of a cake topped with strawberries and a flavored crumble. The cake is typically flavored with flour and butter, while the crumble topping consists of three layers of brown sugar and flour. A strawberry crunch cake is garnished with sliced fresh strawberries and whipped cream.
Easy strawberry shortcake crumble recipe
The easy strawberry shortcake crumble recipe is one of the simplest desserts you can make. You need a few ingredients to make this dessert. All you need to do is to mix up the crumble topping and then layer it on top of the cake. Then add sliced fresh strawberries, pour the cream and bake it in the oven for 40 minutes.
Strawberry shortcake crumble amazon
Fresh strawberries and whipped cream make this delicious strawberry shortcake crumble. The best part of this dessert is that it has a very simple recipe with few ingredients and is quick to make. You can prepare this dessert in about 30 minutes.
Bottom Line
This delicious snack is a great way to enjoy fresh strawberries. You can try several variations of this recipe, like using mixed berries instead of strawberries or even adding some lemon zest to make it more interesting. You can substitute lemon juice with lime or orange juice for a completely different taste.