Sugar Cookie Cake Recipe is a delicious cake best enjoyed with a cup of coffee. It has a light, fluffy texture and rich sweetness that no other cake can match. The recipe also uses ingredients that are easily available in every household kitchen.
Sugar Cookie Cake Recipe is a popular dessert all over India and Pakistan but never fails to impress the masses when served at formal parties in Saudi Arabia and Dubai. This recipe will interest those who want to surprise their guests with something different from ordinary chocolate cake or regular cheesecake.
Why I Love This Recipe?
Sugar Cookie Cake Recipe is one of my favorite recipes. I bake this cake for almost every occasion, whether a formal event or a party. This recipe is very easy to prepare, and the result is outstanding. My family loves this cake and even requests me to bake it more often. I have tried different variations of Sugar Cookie Cake, but the same never disappoints me.
How To Make Sugar Cookie Cake Recipe?
Necessary Ingredients For This Recipe
2 cup flour(250g)
1 teaspoon baking soda(5g)
1 teaspoon cream of tartar(5g)
1 cup butter/Maida
all-purpose flour(300g)
2 eggs
beaten 2 cups sugar (400g)
1 tablespoon vanilla extract (10ml)
1 tablespoon lemon juice or vinegar 1.5 teaspoon
baking powder 3 cups
sugar (600g)
10 tablespoons water
Necessary Equipment
Mixing Bowl,
Cooking Pot,
Mixer,
Whisk,
Plate,
Spatula
Preparation Instructions
Step 1.
Preheat the oven to 325 degrees F (160 degrees C).
Step 2.
In a large bowl, combine flour and cream of tartar. Blend in butter, eggs, vanilla, and lemon juice (or vinegar). Mix until dough forms.
Step 3.
Separate the dough into four portions, three pieces for the bottom layers and one piece for the top layer of the cake. Cover the remainder with a damp cloth to prevent it from drying out.
Step 4.
Roll out dough from 1/3 to 1/2 inch thick and cut out as many round cakes with a cookie cutter as possible. Keep them on a tin-lined baking sheet.
Step 5.
Bake for 20 to 30 minutes or until the edges turn golden brown. Take it out of the oven and cool on a wire rack.
Step 6.
While the bottom layers are baking, you can prepare the coconut topping. Mix 1-1/2 cups sugar and 10 tablespoons of water in a medium bowl. Cook over medium heat until sugar is dissolved. Then bring the mixture to boil. Remove from heat and add coconut. Stir until it is well coated with syrup; set aside.
Step 7.
To make the frosting, cream together 1-1/2 cups sugar and 1/2 cup butter or margarine in a large bowl until it is fluffy and light yellow. Add the extract, lemon juice, and water.
Step 8.
Take 2 cake layers and spread a thin layer of frosting onto each one. Stack the layers and spread on top a thick layer of frosting. Repeat for the second layer.
Step 9.
Using a sharp knife, slice through coconut topping and garnish the cake.
Sugar Cookie Cake Recipe will taste even better if you refrigerate it overnight before serving.
Tips:
• I prefer to use a cake maker machine to mix the ingredients and make the cake. The machine will make sure that the ingredients are mixed uniformly. But you can also do this by hand.
• I also used lemon juice as a substitute for vinegar in this recipe. Don't be afraid to substitute these two items; it may result in different textures but is not inferior to the original recipe.
• You can also prepare 2 vanilla or chocolate cheesecake using this basic cookie recipe.
Nutrition Facts Of Sugar Cookie Cake Recipe
Amount per serving:
| Nutrition | Amount |
| --- | --- |
| Calories | 244 |
| Fat | 11.3g |
| Cholesterol | 34mg |
| Sodium | 49mg |
| Potassium | 16mg |
| Total Carbohydrate | 24g |
| Protein | 3g |
The nutrition provided is an estimate. It will vary based on the specific ingredients used.
06 Incredible Serving Ideas Of Sugar Cookie Cake Recipe
1. Ice Cream Sundae
Sugar Cookie Cake Recipe will taste even better if you add a scoop of ice cream to your slice of cake. Top it with chocolate sauce and chopped nuts to make a delicious treat.
2. Strawberry Cheesecake
Place freshly baked Sugar Cookie Cake Recipe in the refrigerator overnight so that it sticks together when sliced and served. Sandwich two pieces of the cake between a layer of cream cheese, sliced strawberries, store-bought or homemade strawberry gelatin, freeze-dried strawberry powder, and whipped topping.
3. Peach Cobbler
It is one of my favorite desserts that I would surely miss if it were not available on the menu of any restaurant I visit in Saudi Arabia and Dubai. All you need to do to prepare a peach cobbler is to replace the coconut topping with an equal amount of peach slices and cook it as instructed.
4. Strawberry Shortcake
Prepare the sugar cookie cake recipe as described above. Slice the cake into two equal pieces. Spread a layer of Italian cream or cream topping on the first half and thinly sliced strawberries. Sandwich it with the second half of the cake, top it with whipped topping and serve it immediately.
5. Pineapple Upside Down Cake
Place a few pineapple chunks at the bottom of a baking pan, then place sliced sugar cookies on them and top them with some more pineapple slices. Cook for about 40 minutes at 375 degrees F (190 degrees C) and serve immediately.
6. Chocolate Chip Cookies
I always thought it was a dessert, but it is an excellent coffee-time snack. All you need to prepare these chocolate chip cookies is to bake the sugar cookie recipe described above and serve them with some vanilla ice cream, flavored coffee, or hot chocolate sauce.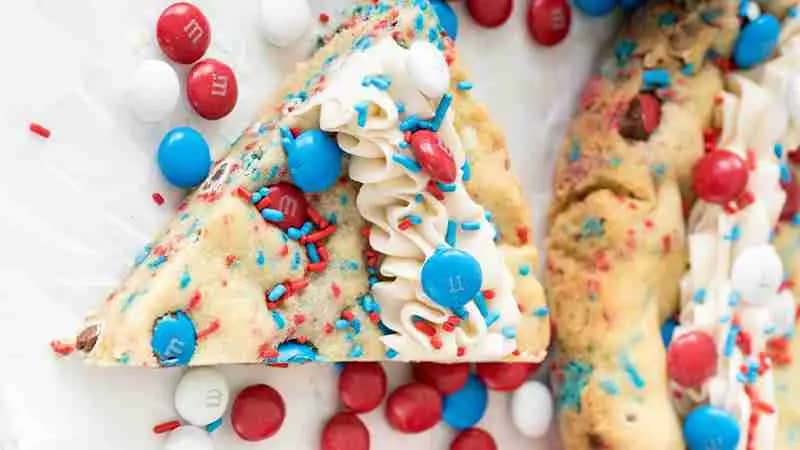 How do you make Betty Crackers sugar cookies?
I baked Betty Crackers sugar cookies for a dieting challenge that I participated in. The challenge was to avoid high-calorie snacks for a week, and if I lost 5 pounds, I would be rewarded with $100. But, you know what happened, I lost 10 pounds in one week, and it renewed my passion for baking cookies, so here it is.
How do you store a cookie cake overnight?
This recipe is a cake, and it is best served right after it is baked. But to store the cake overnight, refrigerate it after you slice the cake and top with the coconut. I used lemon juice to substitute vinegar in this recipe, so even without refrigeration, the cake will not go bad if you keep it well covered in an airtight container.
What is a good thickness for sugar cookies?
To make sugar cookies, you will need a cookie dough of about 1/4 inch. I cut the dough into a square or rectangle to cut it easily.
How long do fondant sugar cookies last?
You can store fondant sugar cookies in an airtight container for 3 to 5 days at room temperature.
What can you add to the sugar cookie mix?
Add extracts like almond, peppermint, cherry, or lemon to the sugar cookie mix. You can add chocolate chips to the dough or under the glaze topping to give a wonderful flavor and texture.
Can you make sugar cookies without flour?
If you are looking for an all-purpose flour substitute in baking, use cornstarch to replace up to 1/4 cup of the flour in this recipe. The texture of your sugar cookies may be slightly different from the original recipe, but it is still very good.
How Long Will It Take To Prepare?
Prep Time: 25 mins.
Cook Time: 30 mins.
Total Time: 55 mins.
Servings: 12
Is It Healthier?
Sugar cookies are delicious and very good for you. They are also low in calories and fat, so if you want to lose weight, baked sugar cookies can help.
Is It Safe For Pregnant And Nursing Women?
Sugar Cookie Cake Recipe is safe for both pregnant and nursing women. They are not only delicious but also very nutritious.
Can I Freeze And Store It?
Yes, you can freeze your baked sugar cookies. The cookies will last for 3 to 5 days at 0 degrees F (or 32 degrees C). After baking, you can store the cookies in an airtight container or zip lock bag.
Bottom Line
Sugar Cookie Cake Recipe is perfect for any occasion, and this delicious cookie cake will surely impress your guests. Since it is very simple to prepare, you can make it at short notice. That's why I consider this recipe the best sugar cookie recipe!