Sugar Cookie Recipe Sour Cream is a moist and tender sugar cookie. They are perfect for your holiday baking. They can be made into a delicious Christmas cookie or a refined sugar cookie at any time of the year.
The size is important for the perfect holiday cookie. The dough must be rolled thin, like sugar cookies, so that they will bake evenly and quickly. They also look more beautiful; they are not as dense as most sugar cookies, typically thick. They have a crisp crust with soft, light centers on top and bottom.
Why I Love This Recipe?
How To Make Sugar Cookie Recipe Sour Cream?
Necessary Ingredients
2 cups of all-purpose flour
1/2 teaspoon of baking soda
1/4 teaspoon salt
2 sticks (1 cup) butter softened to room temperature
2/3 cup sugar
1 large egg
2 teaspoons vanilla extract
Optional Ingredients
Necessary Equipment
Large bowl
Rolling pin
Pastry Cutter
Baking Sheets or trays
Cooling Rack or Tray
Preparation Instructions
Step 1.
In a large bowl, combine 2 cups of all-purpose flour, baking soda, and salt. Set aside.  In another bowl, combine butter and sugar until creamy and light in color. Add the egg and vanilla extract, and mix well.
Beat until light in color and fluffy. Add 1 cup sour cream or yogurt mixed with 1 tablespoon of milk.  Stir well to combine into the dough just until blended into a soft dough consistency (scooped it out with a spoon).
Step 2.
Place the dough on a well-floured surface and knead it until it is smooth in consistency. With floured hands, pat into a rectangle without making any holes or cracks. Cover dough with plastic wrap and place in refrigerator for at least one hour (half to 1 hour).
Step 3.
Preheat the oven to 350 degrees Fahrenheit.
Step 4.
Remove the dough from the refrigerator and place it on a well-floured surface.  With floured hands, pat it into a rectangular shape about 11 – 12 inches in length and 5 – 6 inches in width.  
Cut it into two equal parts with a pastry cutter or knife and roll them flat with straight edges at 15 – 16 inches each. With floured hands, place the dough on a baking sheet. 
Step 5.
Bake for about 10 to 12 minutes or until it's golden brown on the edges and light in color. Remove from the oven, and let it cool for about 5 minutes before serving or storing in airtight containers.
Serving Tips:
These delicious sugar cookies can be served as dessert, along with vanilla ice cream or whipped cream. They can also be served as an after-dinner snack or wrapped into small gift packages and given away to friends and family.
Baking Notes:
The sugar cookie recipe sour cream should not be baked at high temperatures. The dough should not be overly thick so that the heat will reach all sides of the cookie. Otherwise, they will burn on the bottom before they are done on the top and edges.
To Store:
The cookies can be stored in airtight containers; they will stay good for two weeks at room temperature or up to a month in the freezer.
Nutrition Facts Sugar Cookie Recipe Sour Cream
Amount per serving
NutritionAmountCalories173Total Fat8 gCholesterol61 mgSodium161 mgTotal Carbohydrates20 g  Protein2 g  Sugar Cookie Recipe Sour Cream

The nutrition provided is an estimate. It will vary based on the specific ingredients used.
05 Amazing Health Benefits Of Sugar Cookie Recipe Sour Cream
1. Reduces Cholesterol
Sugar cookie recipe sour cream contains vitamin E, which is known to help lower cholesterol levels.
2. Helps Maintain Heart Health
Sugar cookie recipe sour cream contains folate, which helps maintain heart health and regulate blood pressure.
3. Helps Reduce Allergies
Sugar cookie sour cream contains vitamin A, which helps reduce allergy symptoms such as inflammation, watery eyes, runny nose, and sneezing.
4. Helps Relieve Cough
Sugar cookie sour cream contains vitamin C, which helps relieve cough and throat inflammation.
5. Helps Boost Immune System
Sugar cookie sour cream contains vitamin B1, which helps boost immunity and fight infection by increasing white blood cell count. It also boosts antibody levels that prevent the entry of harmful organisms like bacteria and viruses.
How Do You Store Sugar Cookies With Sour Cream?
Sugar cookies with sour cream can be stored in airtight containers and refrigerated for up to 2 weeks. They can also be frozen for up to a month if wrapped well in airtight containers or bags.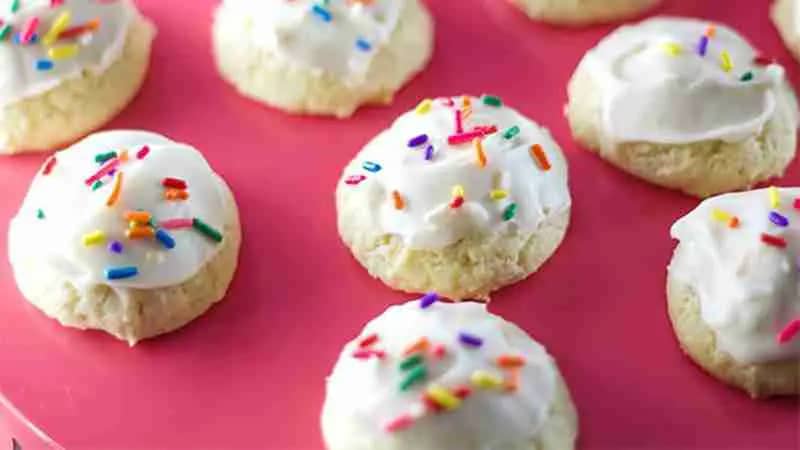 What Can I Do With Too Much Sour Cream?
Sour cream is a part of many delicious and healthy recipes. You can use it to make dips, add to sauces, drizzle over vegetables, and more. However, if you don't find a way to use it immediately, it will spoil in about one week. 
Add 1/4 teaspoon of cream of tartar and 1 tablespoon of fresh lemon juice to each cup of sour cream before storing. It prevents the sour cream from separating quickly, which helps maintain its quality while in the refrigerator.
How Long Does Sour Cream Last After Opening?
Sour cream will last for about 1 week after opening. The sour cream usually starts to taste sour after a few weeks.
Why Do You Put Vinegar In Cookies?
Vinegar is added to the dough of sugar cookies for many different reasons.  It adds a nice flavor. The acid also helps tenderize the dough and makes it easier to work with.
Are Sour Cream Frosting Recipes Easy?
The sour cream frosting is easy and fun to make, especially because it's versatile. You can use it for special occasions such as birthday parties, holiday celebrations, or fancy dress events.
How Long Will It Take To Prepare?
Prep Time: 15 minutes
Bake Time: 10 – 12 minutes
Servings: 20 cookies
Is It Safe For Pregnant And Nursing Women?
Sour cream is a safe food that pregnant, and nursing women can consume. While the unopened containers of sour cream will not spoil, the periods in which it stays at room temperature within the refrigerator can affect its safety. Exposure to extreme heat inside the refrigerator can become unsafe to consume.
Have Any Side Effects Of Sugar Cookie Recipe Sour Cream?
Sour cream side effects are rare. However, if it is not properly stored in the refrigerator, it can grow harmful bacteria and cause food poisoning. And then become unsafe to consume.
Bottom Line
Making sour cream cookies with your hands is a great way to spend quality time, especially when you are spending Christmas with your family. Make the little ones do all the steps, which will make their day and yours.
Though sugar cookies are much sweeter than other cookies, they are more popular than ever. While sugar is not bad for you in moderation, sugar cookies may not be the ideal snack if you want to avoid gaining weight over the holidays.