Vegan Potato Salad is a staple dish at summer barbecues, picnics, and gatherings, but what if you're a vegan and can't enjoy the traditional version made with mayonnaise? Don't worry; there's a vegan version of potato salad that's just as delicious and nutritious as the original. This post will explore everything you need to know about vegan potato salad, including the ingredients, nutrition facts, preparation process, and health benefits.
Ingredients:
Four large potatoes
1 cup of sliced cucumber
1 cup of cherry tomatoes
1/2 cup of red onion
1/2 cup of vegan mayonnaise
2 tbsp. of apple cider vinegar
2 tbsp. of olive oil
Salt and pepper to taste
Fresh parsley or basil leaves (optional)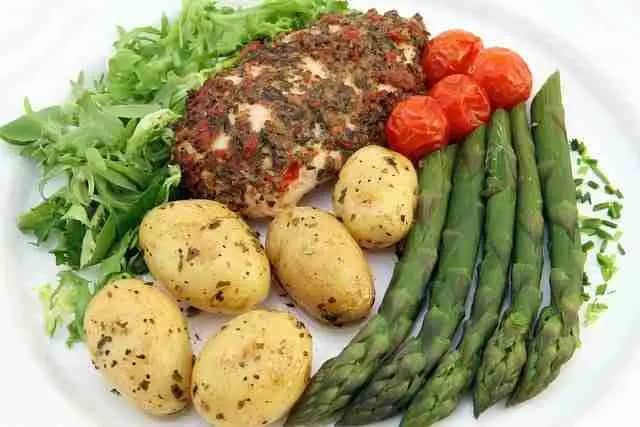 Preparation Process
1. Boil the potatoes in a large pot of salted water for 20-25 minutes or until they are soft.
2. While the potatoes are boiling, slice the cucumber, cherry tomatoes, and red onion and set them aside.
3. Mix the vegan mayonnaise, apple cider vinegar, olive oil, salt, and pepper in a small bowl to make the dressing.
4. Drain the potatoes and let them cool for a few minutes.
5. Cut the cooled potatoes into bite-sized pieces and add them to a large mixing bowl.
6. Add the sliced cucumber, cherry tomatoes, and red onion to the mixing bowl with the potatoes.
7. Pour the dressing over the potato mixture and stir until everything is evenly coated.
8. Taste and adjust the seasoning as needed.
9. Cover the bowl with plastic wrap and refrigerate for 30 minutes to an hour to allow the flavours to meld.
10. Garnish with fresh parsley or basil leaves, if desired, before serving.
Nutrition Facts
One serving of vegan potato salad (150g) contains approximately:
Take To Prepare vegan potato salad
Preparation Time: 15 minutes
Cooking Time: 20-25 minutes
Total Time: 35-40 minutes
Servings: 4-6 people
Health Benefits of vegan potato salad
Potatoes are a good source of potassium, which helps regulate blood pressure and supports heart health.
Cucumbers are high in hydration, which helps keep the body hydrated and can reduce inflammation.
Tomatoes are a rich source of vitamins C and A and antioxidants that can help protect against diseases such as cancer.
Red onions contain quercetin, a powerful antioxidant that can help reduce inflammation and improve heart health.
Vegan mayonnaise is a healthier alternative to traditional mayonnaise as it is lower in calories and saturated fat and free of cholesterol.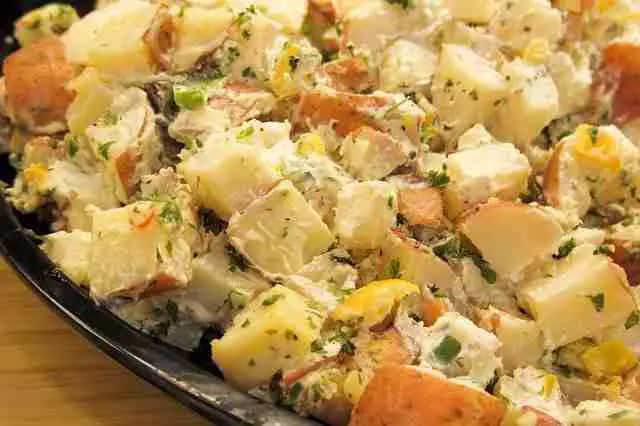 FAQs
How Do Vegans Eat Potatoes?
Potatoes are a staple food for many vegans and can be enjoyed in various ways, including baked, boiled, fried, or mashed.
What Is Vegan Mayo Made Of?
Vegan mayo is made from plant-based ingredients, such as soy milk, oil, vinegar, lemon juice, and seasonings.
Is Mayonnaise Vegan?
Traditional mayonnaise is not vegan because it contains egg yolks. However, there are many vegan mayo options available that are made from plant-based ingredients.
What Is A Substitute For Potato Salad?
If you're looking for a substitute for potato salad, many options are available, such as coleslaw, pasta salad, quinoa salad, or bean salad.
What is Amish potato salad?
Amish potato salad is a traditional potato salad recipe that is commonly served in Amish communities. It is a simple and hearty dish that typically consists of boiled potatoes, diced onion, and a mixture of mayonnaise, vinegar, or other acidic ingredients to create a tangy dressing. Some variations may also include ingredients such as celery, pickles, or hard-boiled eggs. The ingredients are typically mixed and chilled before serving, making it a popular choice for picnics, potlucks, and other gatherings. The exact recipe for Amish potato salad can vary from family to family, but it is known for its classic, comforting flavour.
conclusion
In conclusion, vegan potato salad is a delicious and nutritious dish that is perfect for any occasion. It's easy to prepare and provides a good source of nutrients and antioxidants. Whether you're a vegan or not, this dish will surely be a hit with everyone. So, why not try making it at home today?