Reese Peanut Butter Cups Pie Recipe is the perfect dessert for peanut butter and chocolate lovers. This Reese Peanut Butter Cups Pie Recipe is a pie version of the popular candy bar!
This Reese's peanut butter pie combines chocolate, peanut butter, cream cheese, and whipped cream. It is a fun dessert to make and relatively simple to make! This Reese's sweet pie recipe is a crowd favorite and has become a family tradition.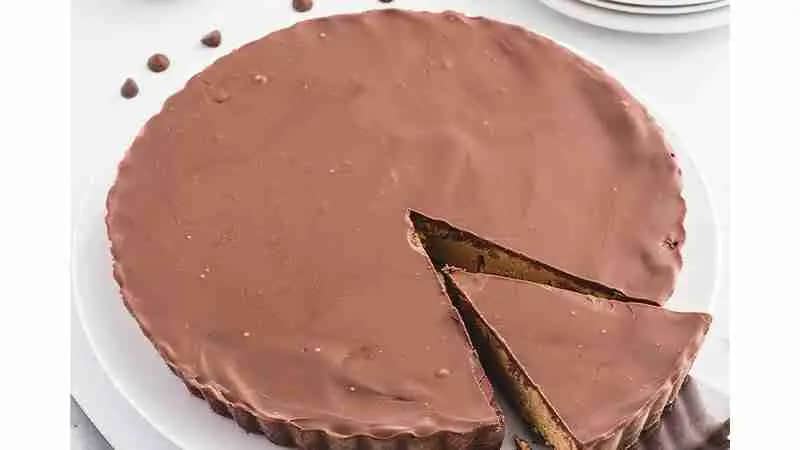 How to Make Reese Peanut Butter Cups Pie Recipe?
Necessary Ingredients
1 (9-inch) Graham Cracker Crust
2-ounce cream cheese softened
1 (8-ounce) package of cream cheese, softened
1 cup peanut butter
2 cups milk chocolate chips
6 Reese's peanut butter cups chopped and divided
1 1/2 cups heavy whipping cream, divided
1 cup miniature marshmallows
3/4 cup chopped Reese's peanut butter cups for garnish
Necessary Equipment
Fork
1 large baking dish
Hand mixer
Mixing Bowl
Measuring Cups
Oven
Saucepan
Preparation Instructions
Step 1.
Preheat the oven to 350 degrees Fahrenheit.
Step 2.
In a large mixing bowl, beat together the 1 cup of Reese peanut butter cups and the 2 cups of chocolate chips until smooth. Fill a baking dish with the Reese peanut butter cups and chocolate mixture to create a layer in the bottom of the baking dish.
Step 3.
In a medium bowl, beat together one 8-ounce package of cream cheese and 1 cup of peanut butter until smooth. Pour the cream cheese mixture into a 9-inch pie pan (or your favorite dessert/pie plate).
Step 4.
Chill the pie for 2 hours. Whip 1 cup heavy cream until fluffy with a hand mixer using medium/high speed. Add 1/2 cup peanut butter cups, 3/4 cup miniature marshmallows, and 1 tablespoon of peanut butter to whipped cream and mix until combined.
Step 5.
Spread whipped cream mixture over peanut butter in a pie pan (or pan of your choice) and chill for another 2 hours. Garnish with Reese peanut butter cups, chopped peanut butter cups, and marshmallows.
Step 6.
Before serving, slice the pie into 8 servings and enjoy!
Cooking Tips:
Feel free to use your favorite crust recipe (or store-bought) for this homemade peanut butter pie.
If you don't like peanut butter cups in this recipe, you can use mini chocolate chips instead.
If you want a thinner pie, use 1/2 cup marshmallows in the whipped cream topping instead of 3/4 cup.
When making the whipped cream topping, I recommend using a food processor (don't process it too long, or the marshmallow will start to melt).
Take To Prepare Reese Peanut Butter Cups Pie Recipe
Preparation time: 20 minutes
Cooking time: 2 hours
Total time: 2 hours 20 minutes
Serving: 8 servings
Nutrition Facts Of Reese Peanut Butter Cups Pie Recipe
Amount Per Serving
Nutrition data is approximate and is for information only. Nutrition Facts may not be exact because the recipe has been altered and re-tested several times to ensure its accuracy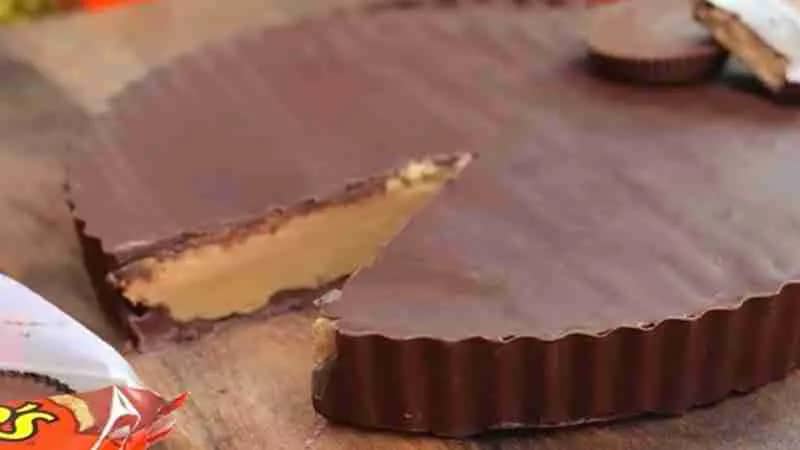 05 Amazing Health Benefits of Reese Peanut Butter Cups Pie Recipe
Let's look at some of the health benefits of the Reese Peanut Butter Cups Pie Recipe.
1. Natural Energy Source
The protein and carbohydrates found in the peanut butter in this recipe make it a natural source of energy for your body. Your body will use this fuel to burn calories, and your mind will feel full and satisfied after eating.
2. Anti-Inflammatory
Peanut butter contains anti-inflammatory properties, which make it great for alleviating pain and irritation.
3. Antioxidants
Antioxidants fight aging by destroying harmful free radicals. Free radicals cause conditions such as cancer, heart disease, and Alzheimer's disease. Peanut butter can help reduce the risk of developing these diseases by improving your body's defenses against them.
4. Healthy Dose of Fiber
A single serving of Reese's peanut butter cup pie has nearly 3 grams fiber. Fiber helps your body maintain its natural elimination process, makes digestion more accessible, and stabilizes your blood sugars.
5. High in Protein
A single serving of peanut butter contains 8 grams of high-quality protein. It makes peanut butter an excellent snack for any athlete.
6. Good Source of Vitamin E
Because peanut butter contains a significant dose of vitamin E, it also has antioxidant benefits that can help slow down our natural aging process.
FAQs Section
How long will peanut butter pie last in the refrigerator?
Reese's peanut butter pie should be refrigerated after it has been made for the best food storage. It will be kept for about 3-4 days in the refrigerator before baking.
Will They Make More Reese's Pies?
A famous peanut butter and candy brand in the United States created Reese's peanut butter cup pie recipe. They have since discontinued the making of this delicious treat. If you love it, I recommend making your own at home.
Who Makes Reese's Pie?
Reese's peanut butter cup pie recipe is made by Reese's Peanut Butter Company, founded in 1972. The company is located in Hershey, Pennsylvania.
What Is The Most Liked Pie In The World?
The Reese's peanut butter cup pie recipe is one of the most liked pies in the world. It is one of the top 10 most popular desserts in the world.
What Is The Most Famous Pie In The World?
The Reese's peanut butter cup pie recipe is one of the most famous pies in the world. The renowned brand of Reese's Peanut Butter created the original recipe.
The Most Popular Pies Around the World
Mexico: Pie de Limón (Lemon Pie)
Canada: Apple Pie
Bolivia: Bolivian Pie
Japan: Chocolate Pie g Wafu (Pie wafu)
Venezuela: Pastel Caramelo (Caramel Cake)
Iceland: Tortella Calda (Hot Cake)
Switzerland: Swiss Apple Pie
Korea: Gimbap Pie (Kimbap pie)
Italy/United States of America/India/Australia, etc.: Blueberry Pie, Strawberry Pie, etc.
France: Crepe, Apple pie, Caramel Cake
Germany: Kuchen, Apfelstrudel and Pfannkuchen (Apple or Puff Pastry), etc
Netherlands: Tarte à la mode (Tart)
United States: Boston Cream Pie
How To Store And Freeze It?
The Reese's peanut butter cup pie should be stored in the refrigerator in an airtight container and last up to 3-4 days. You can freeze it for about 2 months if you make it ahead.
Conclusion
The Reese's peanut butter cup pie is one of the most famous pies in the world. Along with its many benefits, it is pretty delicious. You can now make this fantastic Reese peanut butter pie recipe at home!
I hope you enjoyed my Reese peanut butter cup pie recipe. If you do, please leave a COMMENT below and share it with your friends on social media.